How to order?
Shopping with Colorsbridesmaid.com is bound to be easy, fast and convenient. Now just follow several steps below, you can place an order on Colorsbridesmaid.com at an amazing price.
1. Click "Sign In or Register"
You can find the button "Sign In or Register" on the right top corner of any page, just click the button to sign in or register. You can also sign in or register later when you are ready to checkout.
2. Search or browse products, and add your favorite items to your shopping cart.
*Choose Color
You can select the color you want by clicking the color block. Once you do so, the dress in the picture would change into the color you chose. Due to not all our colors are listed, if the color you want is not available in the menu, please feel free to contact us and tell what color you like for the dress. It would be better for you to provide a color sample so we will see if it will work out.
*Choose Size
Standard Size
You could choose any standard size from the size drop-down menu, and specific measurements of this size dresses will be displayed in the area below.
Custom Size
We suggest you choose custom size because not everyone fits standard size dresses. All we need is your accurate measurements to make a dress only for you. You could choose custom size from the size drop-down menu or tick the box beside it. After you choose custom size, a window will pop up for you to select your bust, waist, hips, height, hollow to floor and heels height measurements. After you select your measurements in corresponding boxes, you can click "Confirm Now" to continue the purchasing process. And if you are not sure about your measurements yet, you can click "Confirm Later" to select your measurements later.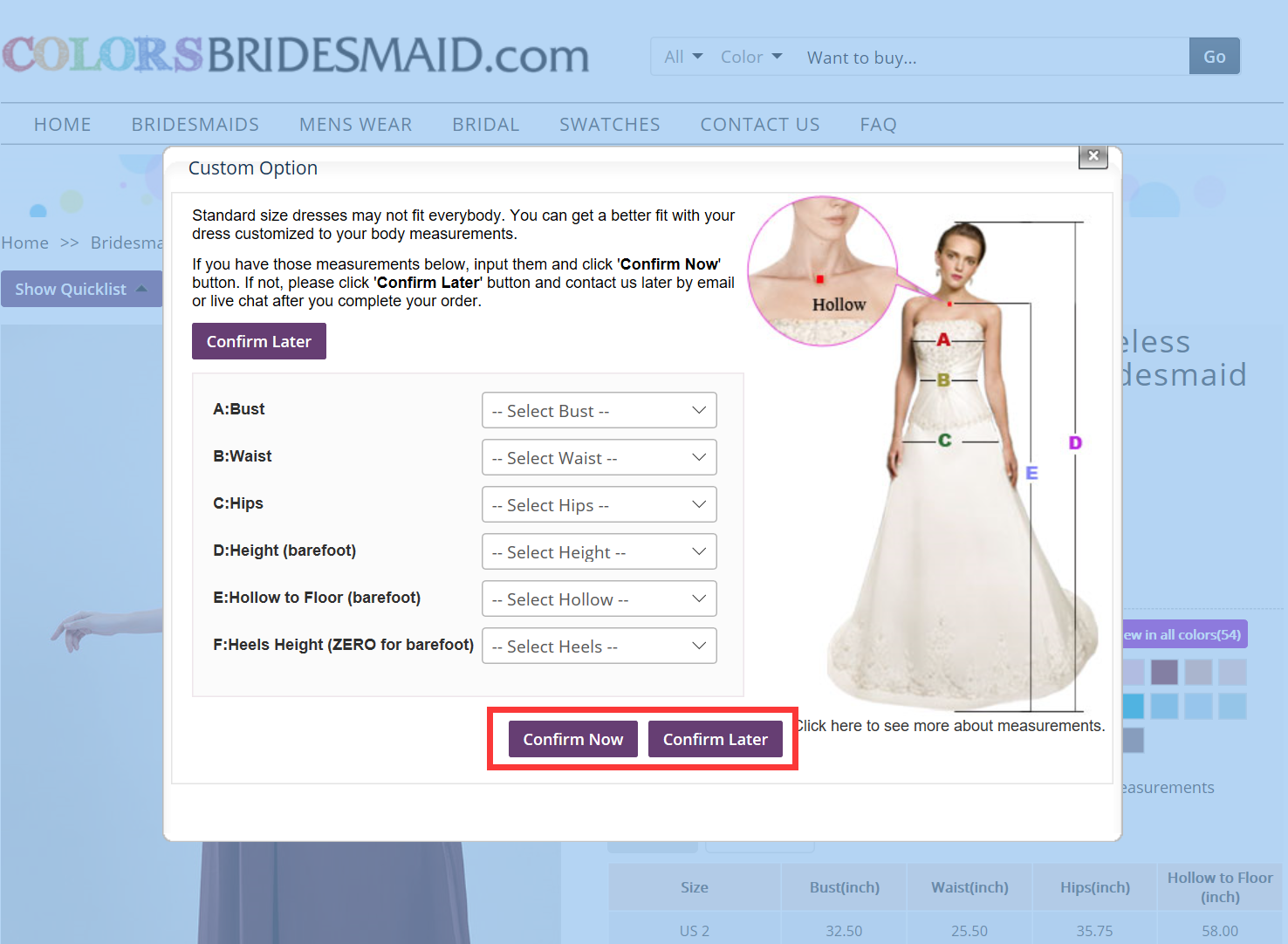 *Leave order comments and Add to shopping Cart
If you have any specific requirements about your order, please leave order comments. We will pay special attention to your order and make the dress as you request.
After choosing the color, size, Latest Arrival Date and type a number in the quantity box, you just need to click "Add to Cart" button to add the dress to the Shopping Cart. In the "Shopping Cart" page, you can remove items or adjust the quantities later if you change your mind. Items in shopping cart are saved there while you browsing more items or for your next visit.
3. Check the Grand Total and Order Details
You can see the Grand Total of your order on the right bottom of "Shopping Cart" Page. If you have coupons, just enter your coupon code, then the coupon value will be subtracted from the Grand Total. After confirming both of the grand total and order details are all right, you can click "Proceed to Checkout" to make the payment.
4. Choose Shipping Method and Checkout
After editing or confirming the Billing Information and Shipping Information, you need to choose Shipping Method and Payment Method. And then you can follow online guide to accomplish payment.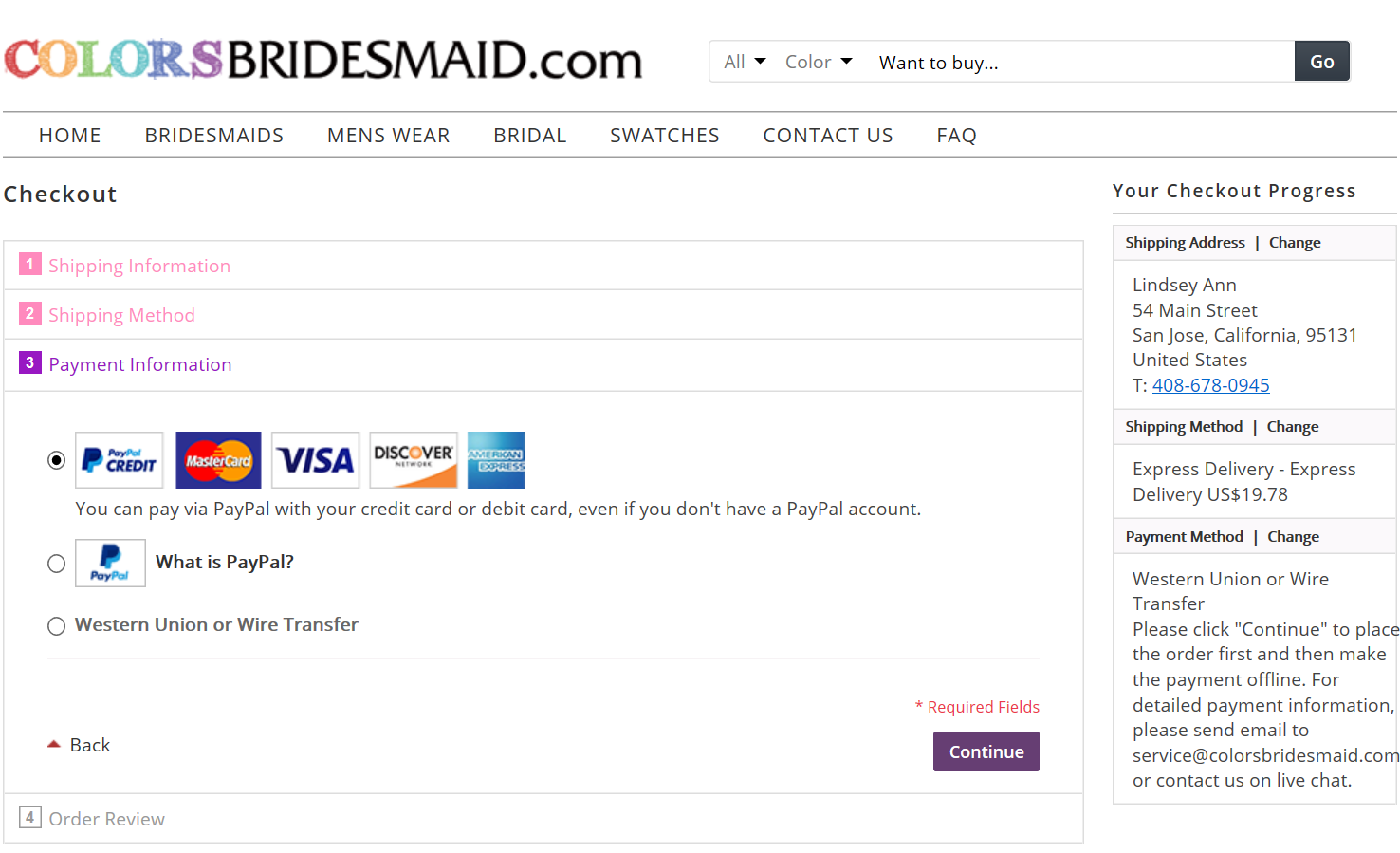 5. Review and Place Your Order
After accomplishing the payment and confirming your order details in the "Order Review" area, please click the "Place Order" button to place your order.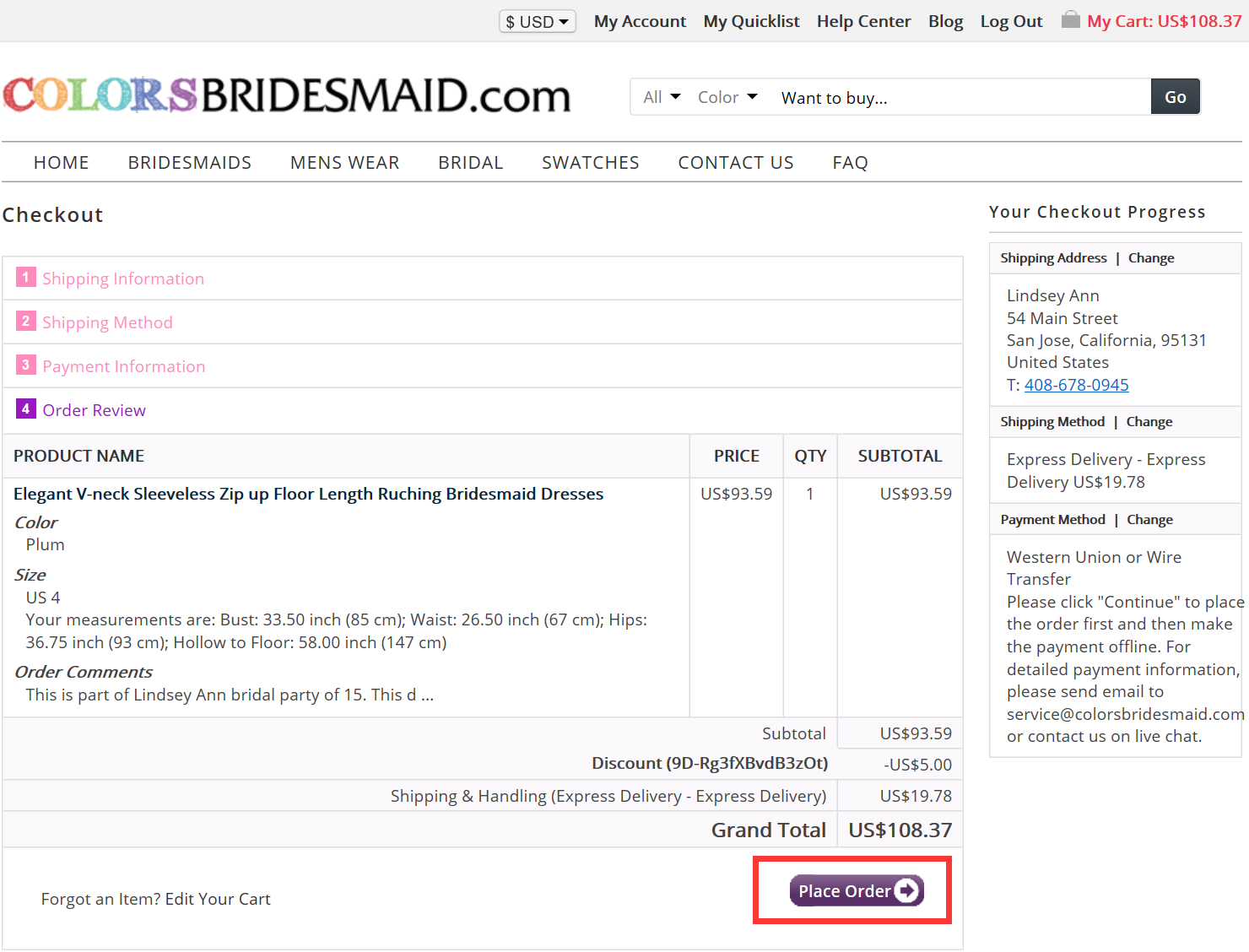 6. Order Successfully
Once your order was placed successfully, we will send you an email notification for the order