Many couples fall in love with fall weddings. Here we have stated 8 popular fall wedding color palettes which will give a guildance on choosing fall wedding colors. If you are planning an outdoor wedding, October is the ideal time in the fall season since it is not too hot and not too cold.
Here we rounded up 8 wedding color combinations that are perfect choice for the October big day. They are ranging from ranging from warm colors like orange, red to cool colors like gray and black. Check them and you can borrow them for your own special day, or share them with a friend who's planning to tie the knot. We also provide Wedding Colors in All Seasons and Colors for those who are unsure their wedding colors and time.
Purple is an ideal color for fall wedding and winter wedding. With different shades-such as pansy purple and combined with the colors of gold and white, you can have an perfect October wedding color combos. You will see more details on bride and bridesmaid dresses, men's suits, wedding aisle arrangement,wedding cake, invites, centerpieces after click on the image below.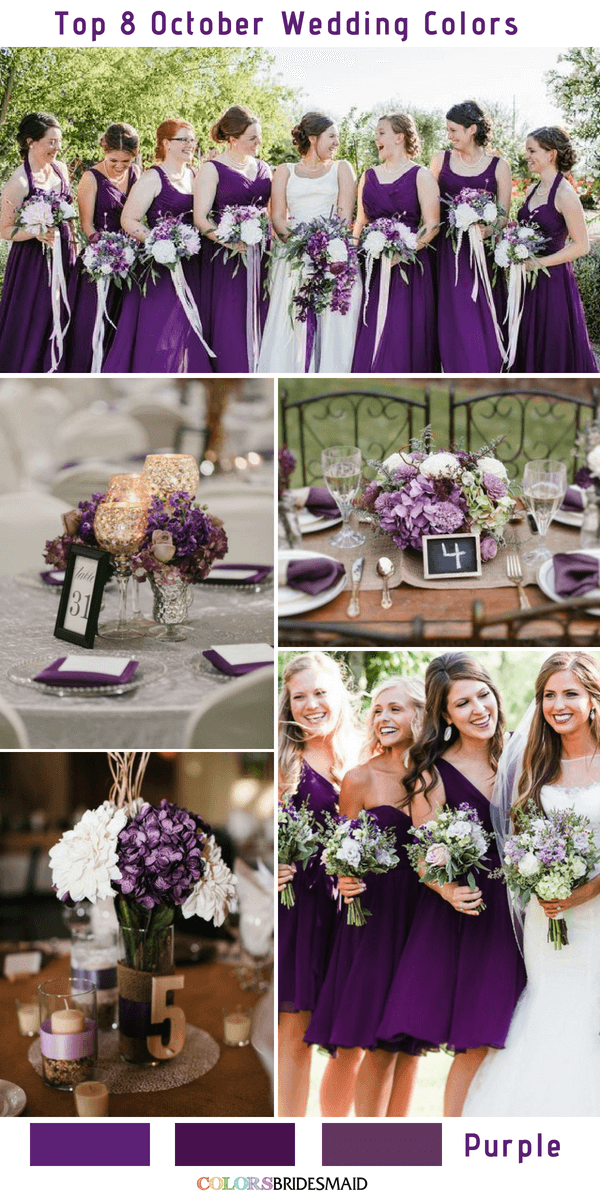 As a classic color, burgundy is pretty much a must-have color if you're getting married in October! white bridal gown, burgundy bridesmaid dresses, navy groom suits and grey groomsmen suits with burgundy ties, neutral table linens with burgundy centerpieces, your October fall can not be more perfect! Click on the image below, more inspirations on this color palettes will be shown which will help you add burgundy into your October wedding decor.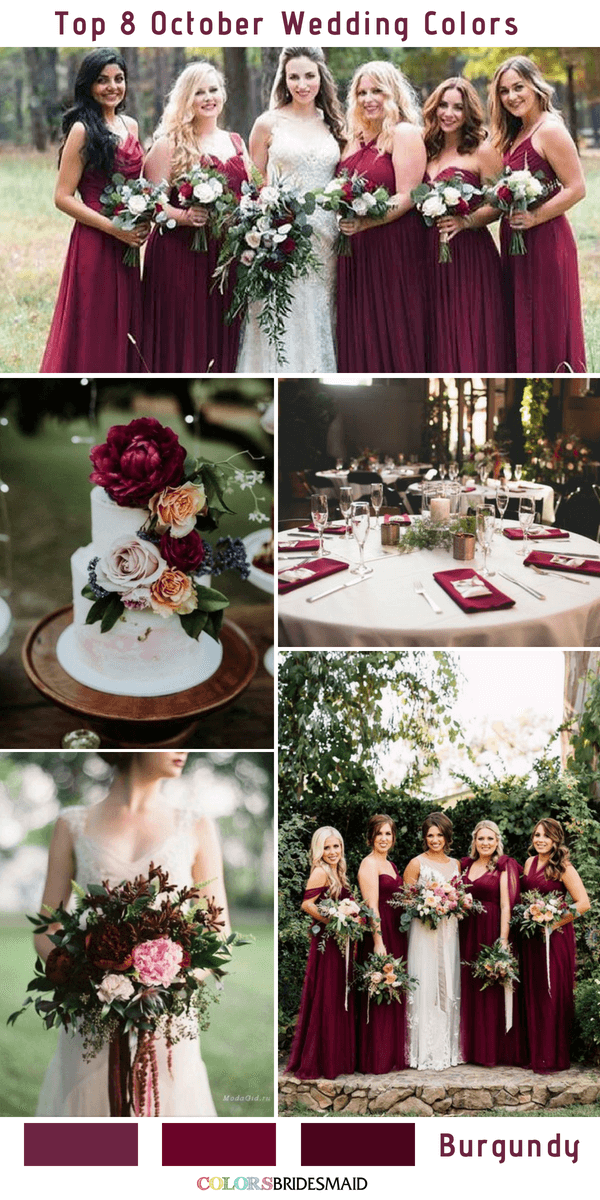 Teal Wedding
Teal combined with orange or coral makes the special day look gorgeous! Try teal bridesmaid dresses and the following color combinations: white bridal gown, orange or rust wedding bouquets, teal table linens, orange napkins, orange centerpieces, deep blue groom and groomsmen suits and teal pocket squares…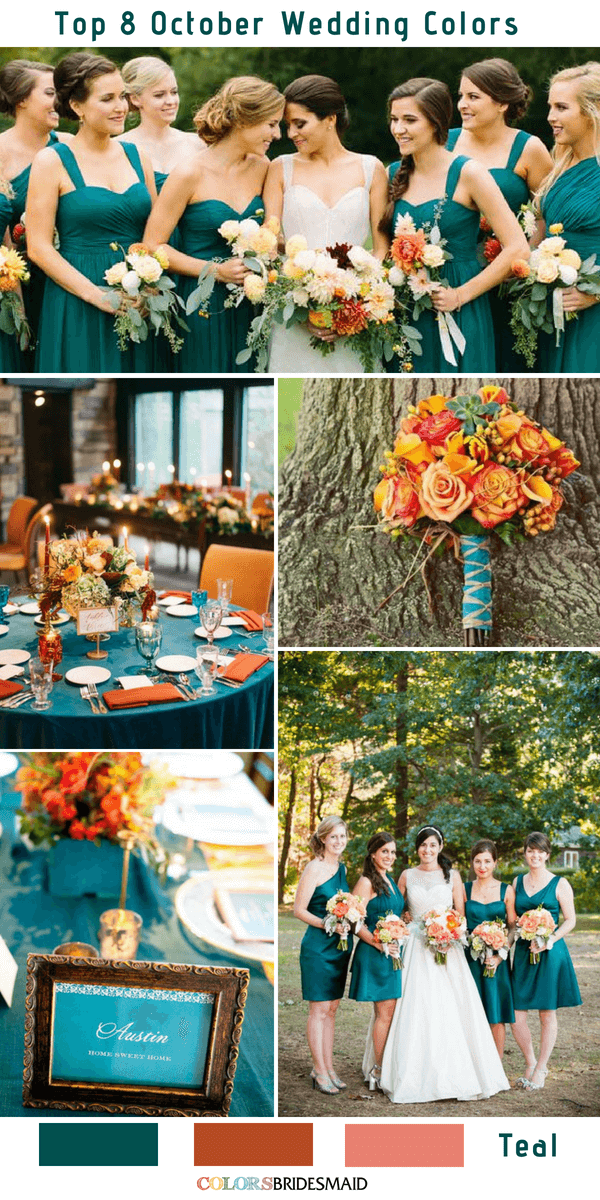 Gray Wedding
The neutral hue of gray is perfect for October wedding, classic and elegant, nothing dull or gloomy. It pairs perfectly with other colors such as white, ivory, blush and greenery.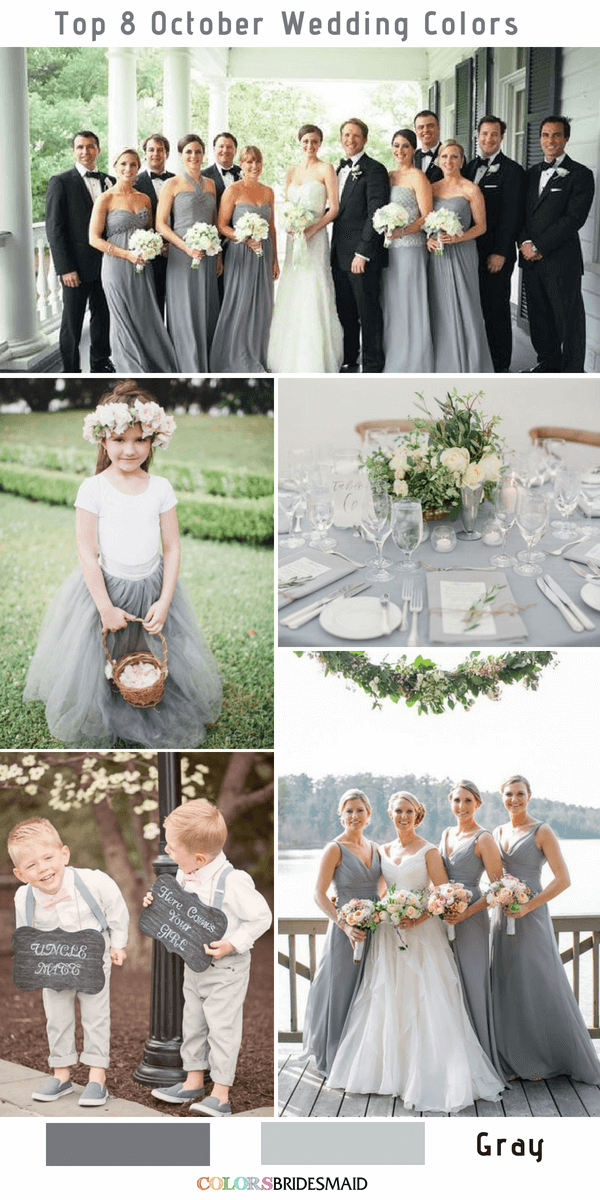 Black Wedding
Black isn't only for suits and tuxes! You can add it to your tables with candlesticks to pump up the moodiness, or via your wedding cakes, wedding board and pair with black bridesmaid dresses. Going with the expected black and white combo and adding in some greenery to make your palette a little more rich!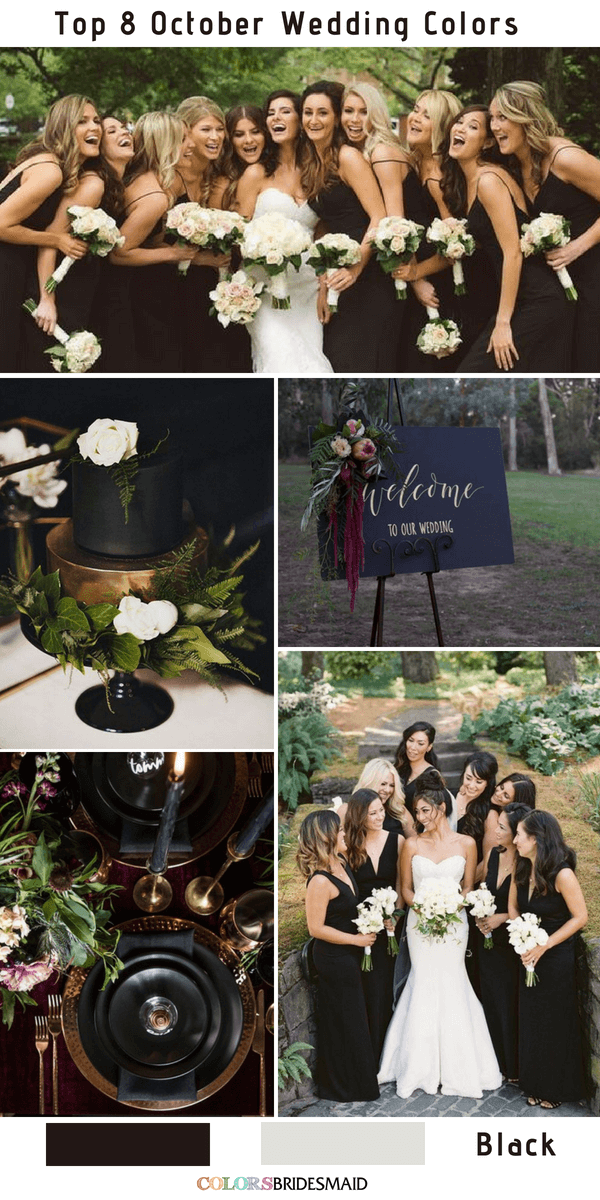 Navy Wedding
Navy blue bridesmaid dresses, gray suits, and white wedding flowers with navy blue knots are perfect color combinations, which makes the October wedding clean and romantic!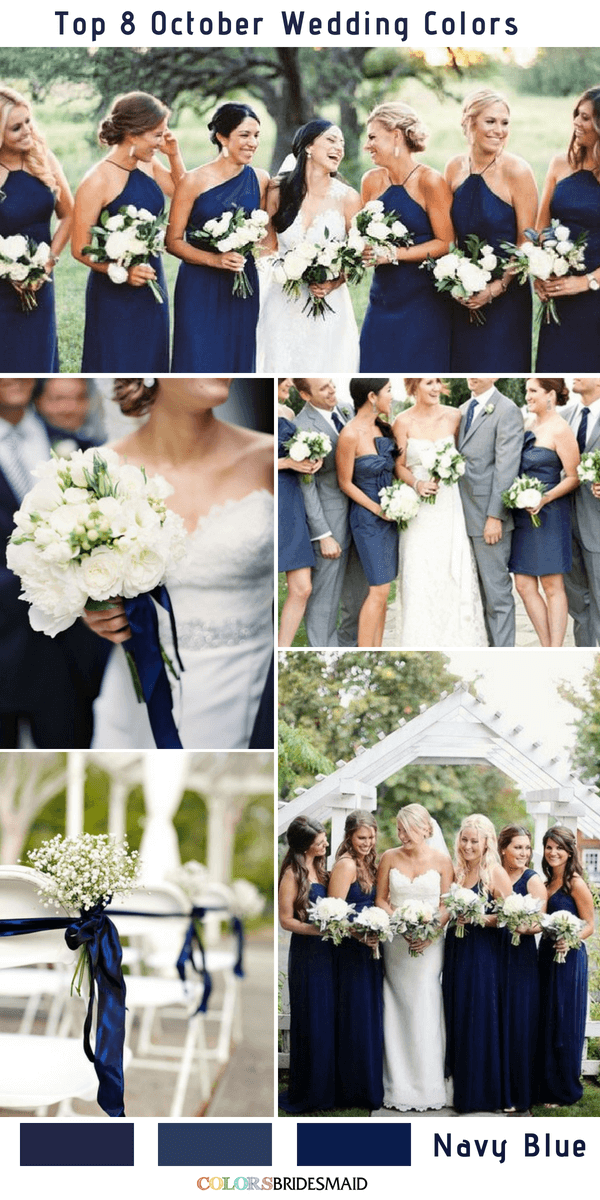 Orange Wedding
Orange, especially persimmon organge color, represents warm and harvest, which is perfect for the October big day. With different shades of orange, the color combination is differently gorgeous!
Red Wedding
Red bridesmaid dresses, white and red bouquets, white bridal gowns and white and red centerpieces combines a perfect wedding color palette for the October big day. Take it a try and it never disappoints you.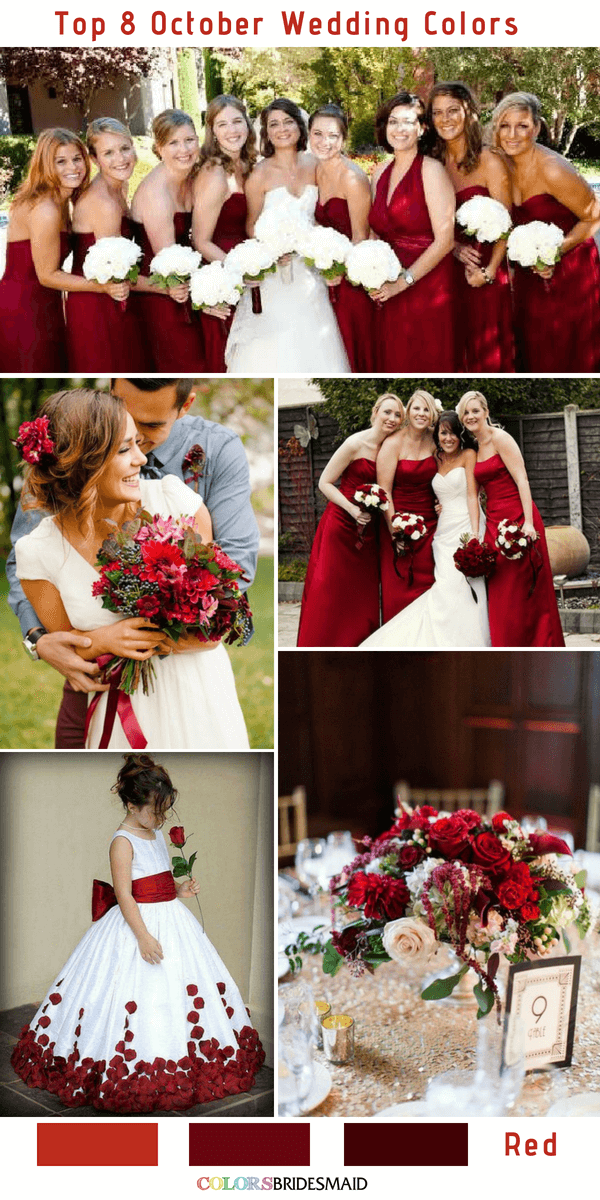 More Wedding Color Combos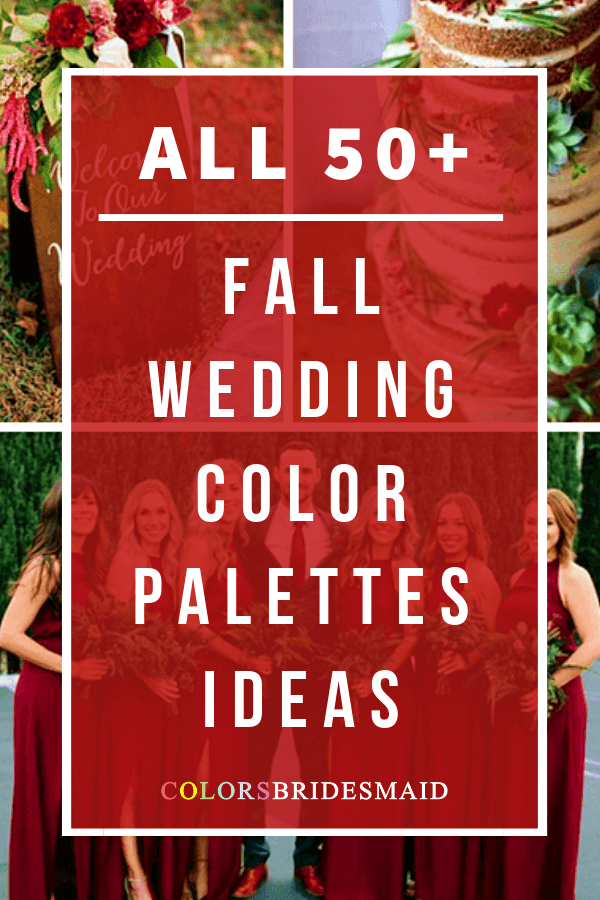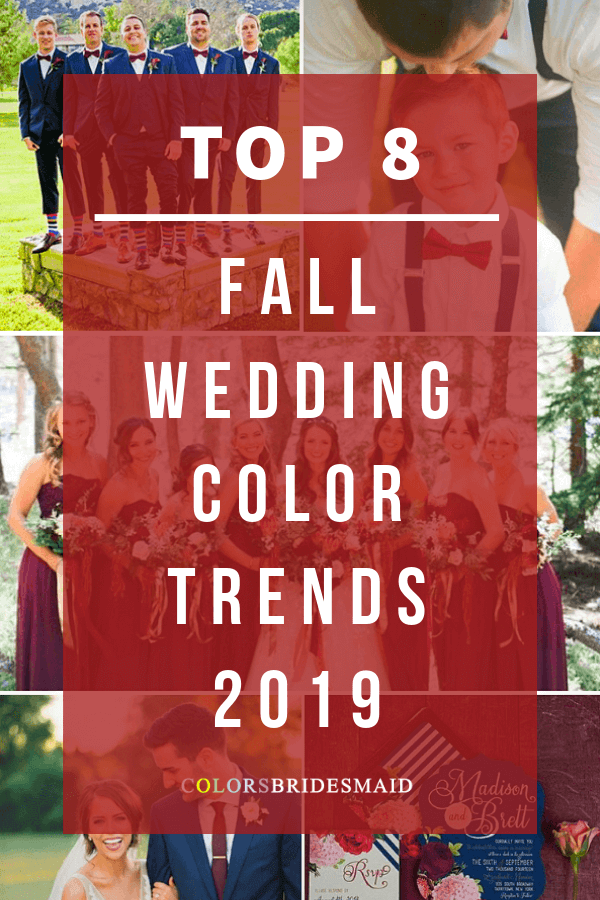 ColsBM Bridesmaid Dresses in 150+ Colors
Purple, burgundy, grey, navy, black etc. are really popular colors in October weddings. Bridesmaids wearing dresses in these colors are very attractive. There are 500+ styles of bridesmaid dresses in these colors at Colorsbridesmaid.com. Have to mention, the color range here is very large. It surpasses 150 which will meet your requirements very well. All dresses are custom made without paying extra money which will not only guarantee the perfect fit but also save your money.