Dusty rose is the perfect color to pair with emerald and gold. It will form a less contrasting and harsh contrast with emerald and its muted hue will bring out the shimmer and shimmer of the gold tableware and centerpieces, allowing them to shine and stand out as charming eye-catchers. Just balance them harmoniously. Dusty rose bridesmaid dresses, a white bridal gown and white and dusty rose little flower girl dresses are so amazing. To pair with them, the bridegroom can wear an emerald suit. You can arrange your wedding as follows: emerald wedding tablecloth, dusty rose napkins, gold tableware and centerpieces, dusty rose and emerald wedding invitations with gold seals, emerald and gold wedding earrings and white wedding cake dotted with dusty rose flowers.
PHOTOGRAPHY: Parker Young Photography
Via: Etsy
Photography: Alice Che Photography
Photography: Brandon Lata Photography
Photography: Brandon Kidd Photography
Shop More Emerald Green Bridesmaid Dresses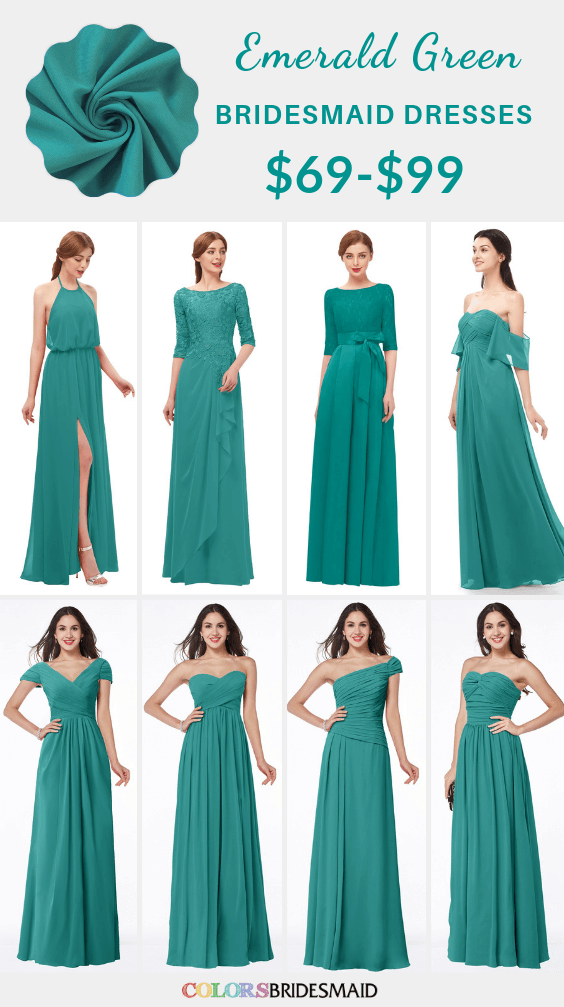 More Wedding Color Combos
Wedding Colors for All Seasons and Colors
Emerald Green Wedding Color Palettes Ideas
ColsBM Bridesmaid Dresses in 150+ Colors
Emerald, gold and dusty rose wedding color combos will bring you a graceful and impressive wedding. If you are picking the bridesmaid dresses for your girls, just come to Colorsbridesmaid.com where you can find more than 600+ style bridesmaid dresses in 150+ colors. All bridesmaid dresses can be custom-made to your size to flatter your figure. The affordable price of mostly under $100, excellent workmanship as well as professional customer service at Colorsbridesmaid.com will never disappoint you.