With winter chilly temps and festive feel, December wedding colors will be with more deep, rich hues and plenty of sparkle. Check the following color combinations to gather some inspiration for a unique December wedding for 2019 that'll have your guests totally swooning. Have not decided your wedding seasons and colors yet? Do not worry! We also offer you Top 40+ Wedding Colors in All Seasons and Colors.
Red, green and snowy white, a festival Christmas color palette, is a classic winter wedding celebration color mix. White bridal gown, red bridesmaid dresses, red and greenery bouquets, tables decorated with red flower and greenery, everything looks so stunning. Try to use more lush green pine trees to keep natural shades of green. Click on the image below, you will be inspired greatly!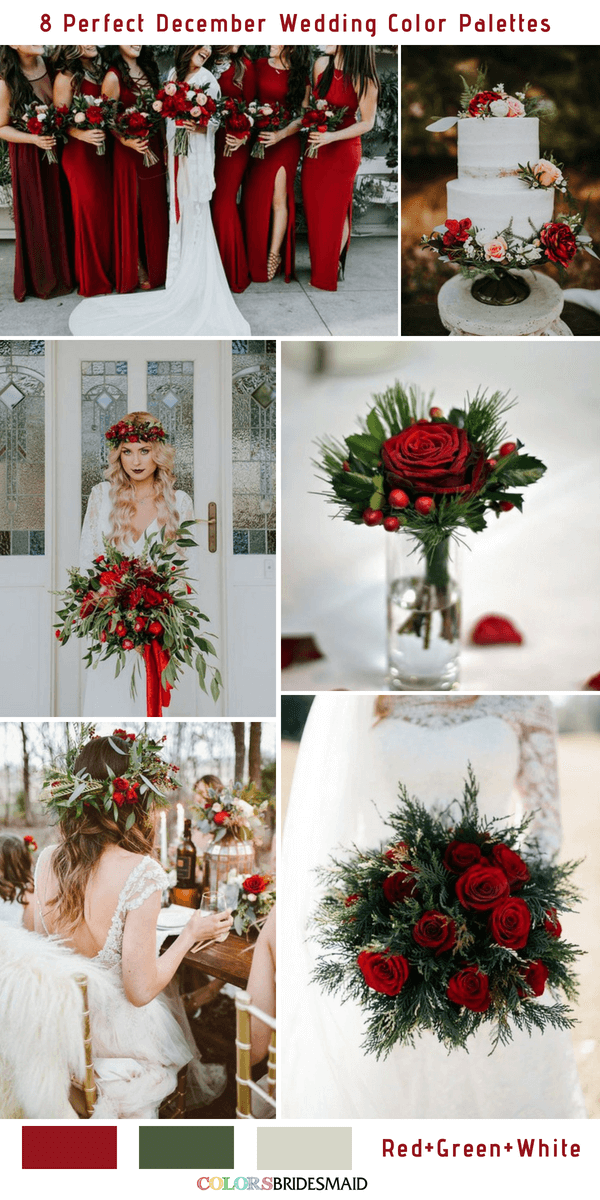 Dusty blue wedding palette works well for your winter wedding celebration. You can also add some white-washed greens, hazy blue details and some romantic candlelight to celebrate the special moment. More ideas will be given after you click on the image below.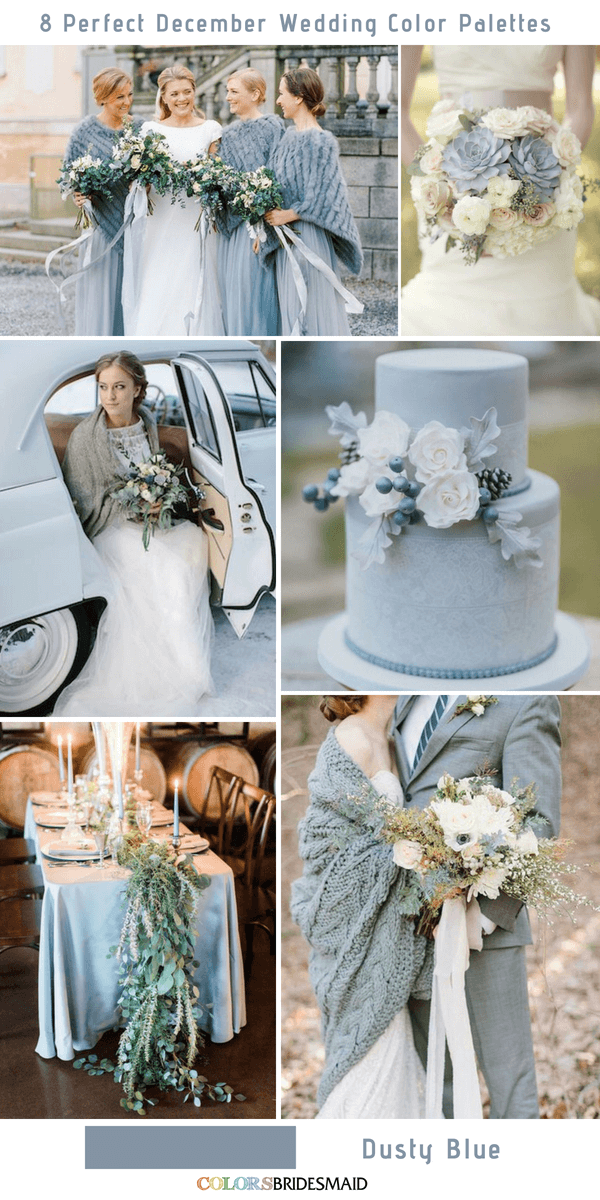 Neutral
Neutral color palette is special and perfect for December winter outdoor wedding. You can suggest your girls wear cream bridesmaid dresses while bride in white gown and White fur wrap, girl with grey fur wrap, groom and groomsmen in Khaki or cream suits, wedding bouquets in white, blush and dried flowers, neutral table linens and White centerpieces…, all these will make your wedding stand out!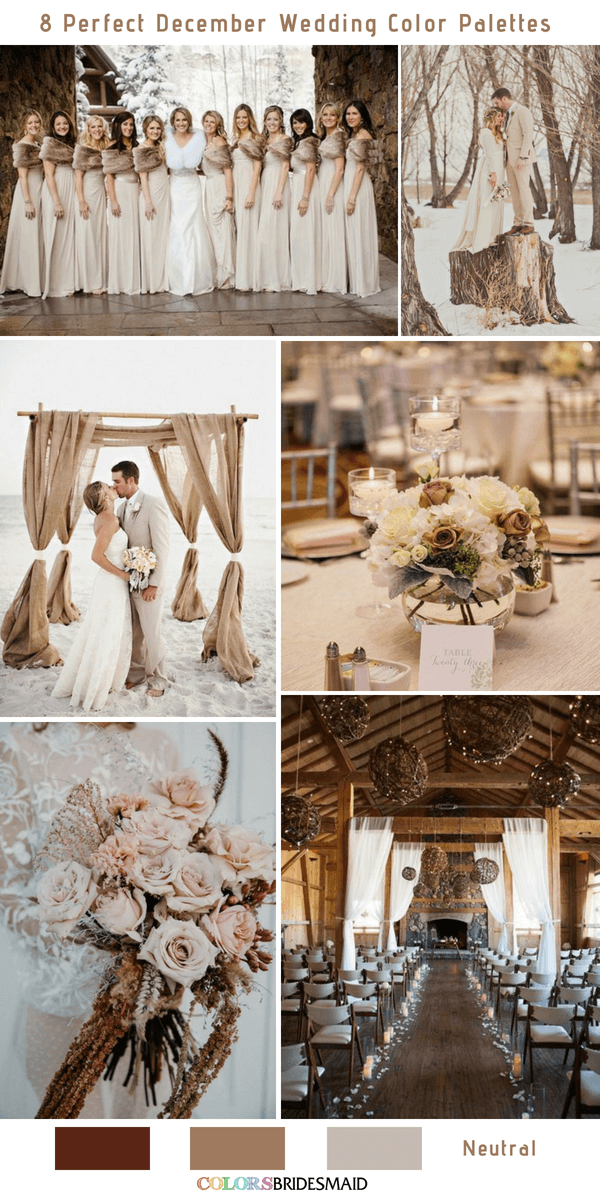 Black + Red
The mix of red and black is truly classics and perfect for December Weddings. Red and black color combos is easy to work with and is sure to create a vibe of romance and desire. Go ahead and enjoy!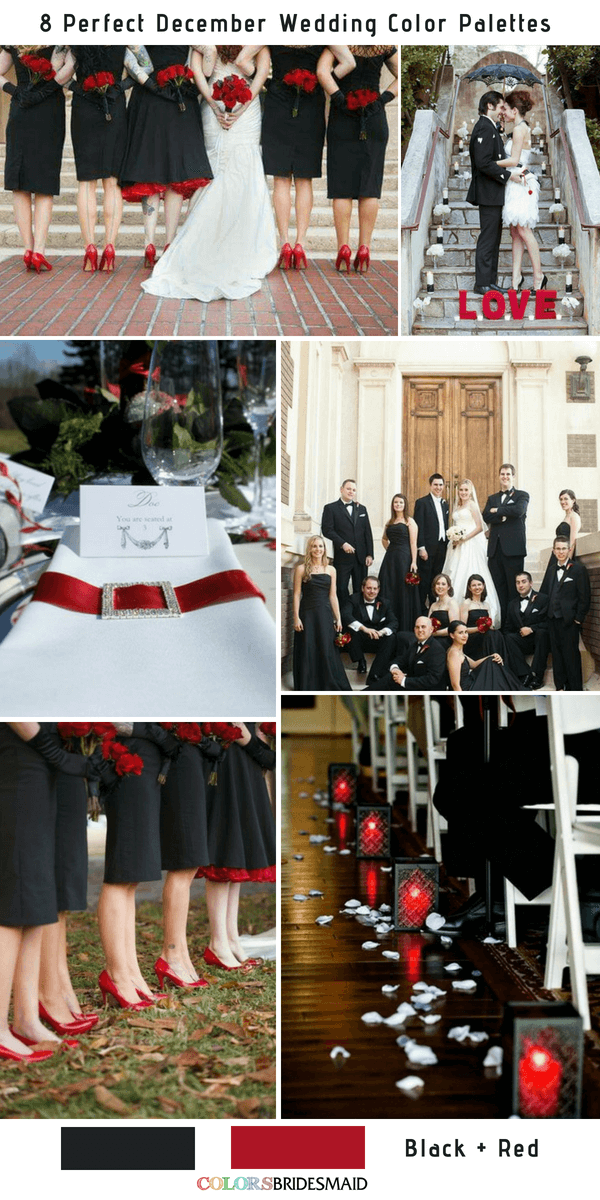 Grey + Red + White
Grey, red and white color combinations is perfect for the whole wedding party, leading girls in grey bridesmaid dresses with red bouquet and red shawls, bride in white gown wearing red shoes, while groom and his groomsmen in grey suits.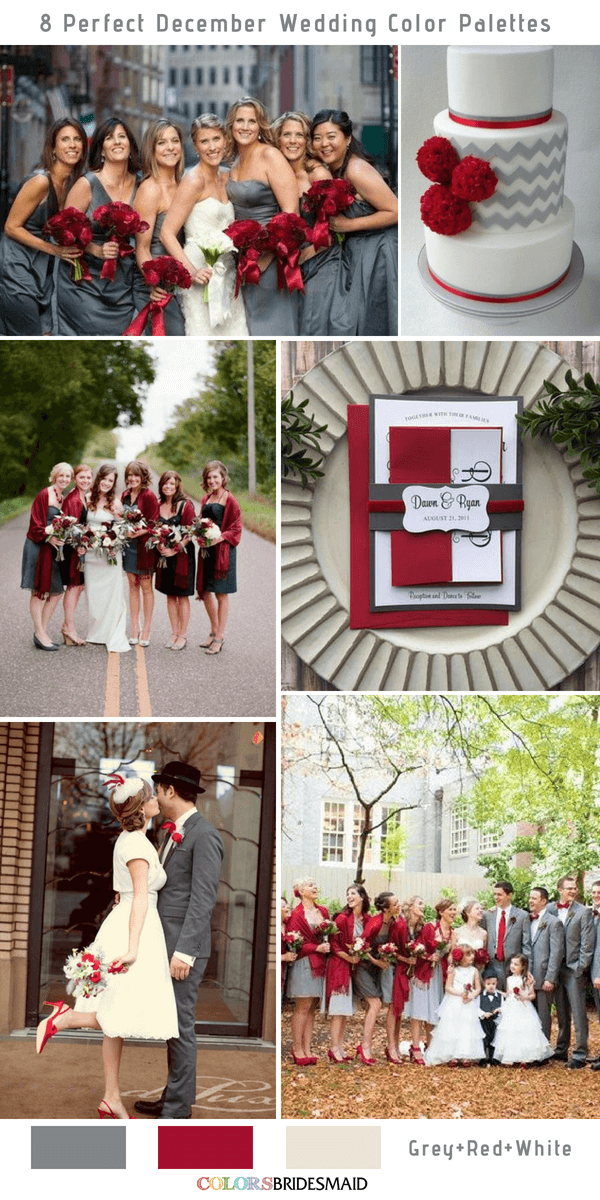 Ice Blue + Silver
If you feel like really a winter-inspired wedding with ice and snow, ice blue and silver color combos are sure to inspire and enchant you!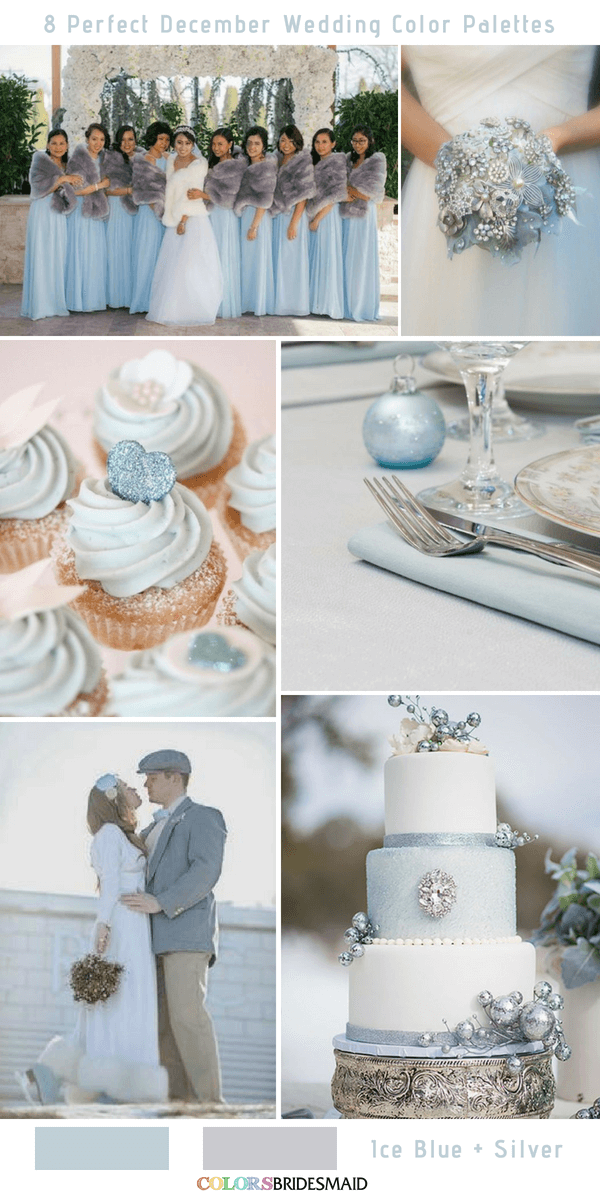 Mint Green + White
Mint Green Bridesmaid dresses, white shawls, white bouquets, white bridal gown and mint green tablecloth, all combines a perfect color combos for a snowy winter wedding, especially for an outdoor wedding.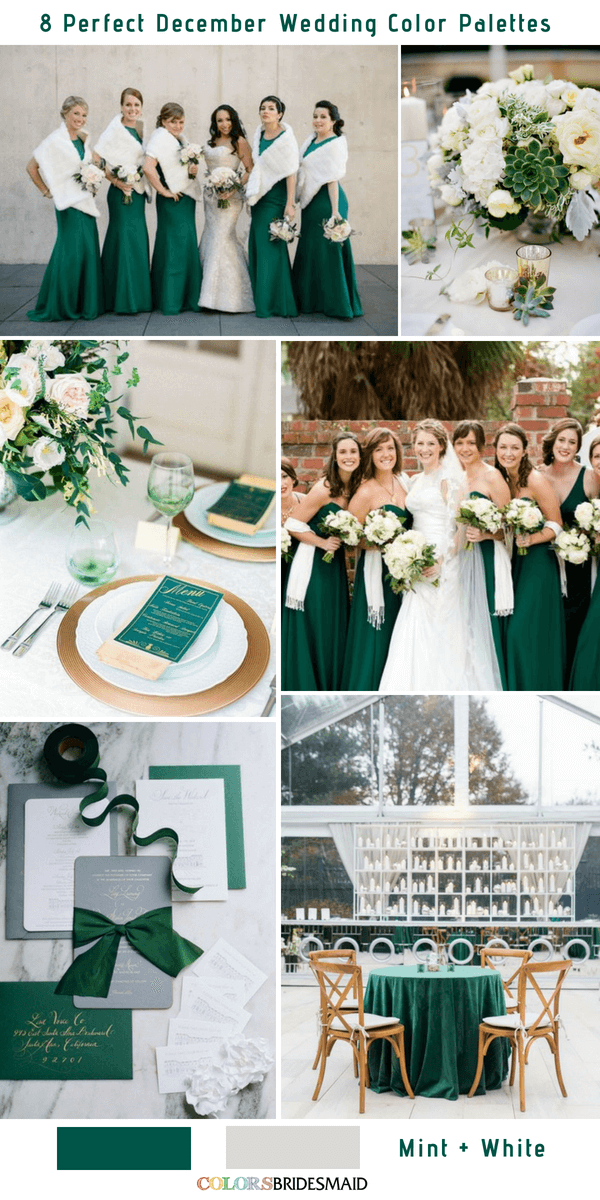 Navy + Burgundy + Blush
Navy suits and burgundy bridesmaids dresses is a never out-of-fashion winter wedding color palette. Blush will add more romance and poetry to the whole wedding.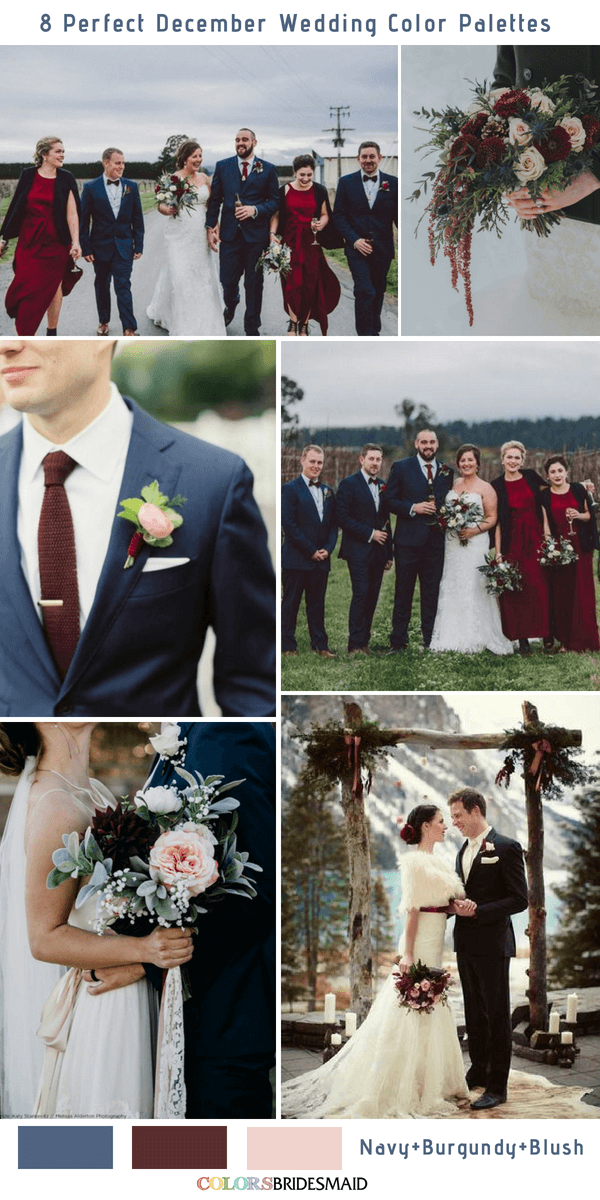 Neutral
Neutral color palette is special and perfect for December winter outdoor wedding. You can suggest your girls wear cream bridesmaid dresses with grey fur shawls and groom in cream suits. Check the palette followed for inspiration.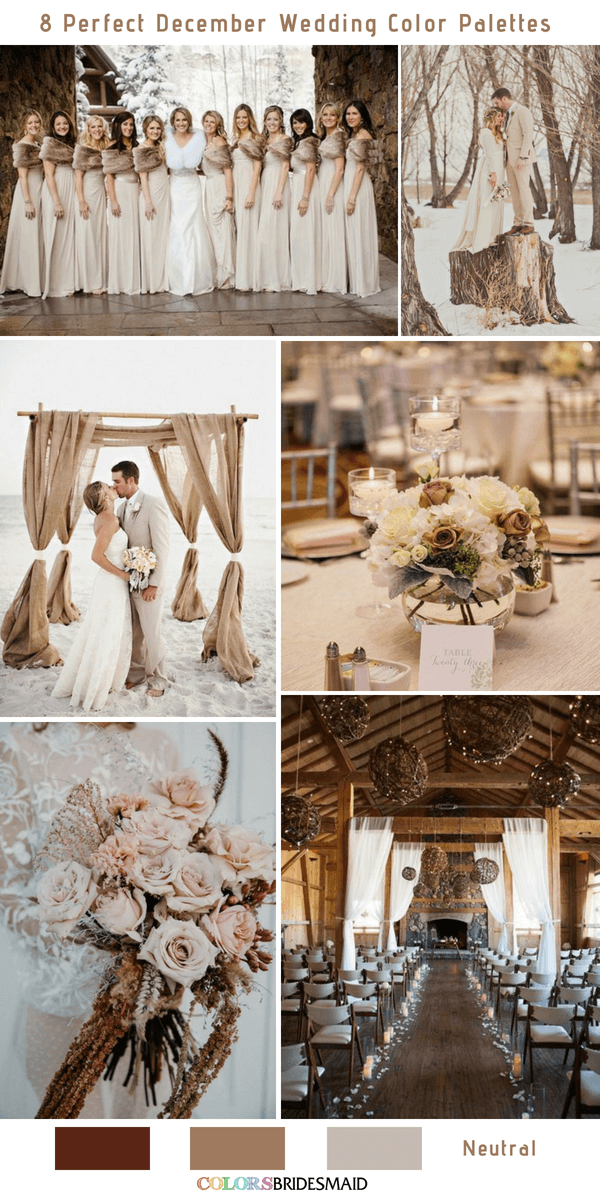 Other Winter Wedding Color Ideas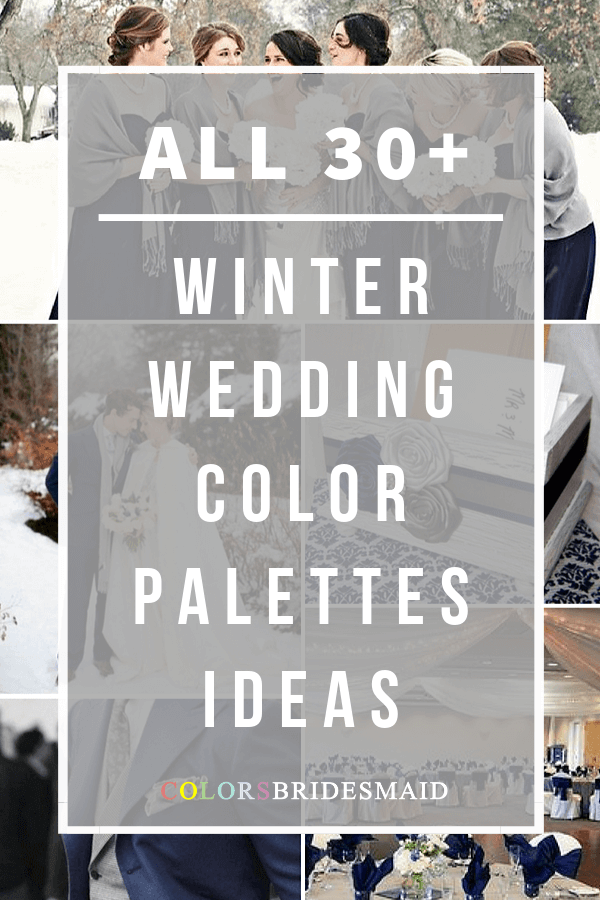 Free Wedding Package - Limited Time Offer
Thinking of a white wedding? There is no better month than December. The snowy days will provide the perfect backdrop. We are sure that the stunning 8 December wedding color palettes must have impressed you. Then we will announce a piece of excited news. It is Free Wedding Package which includes 5 great benefits. Just contact us to get it!