Are you planning your 2019 wedding? No matter your wedding will be held in spring or summer, you can get some clues on our previous posts of Top 8 Spring Color Palettes for 2019 and 8 Fresh and Hottest Summer Wedding Color Palettes for 2019.
If fall is your favorite season to knot your tie, Here we've got a collection of top 8 fall wedding colors for 2019 to inpsire you from which you can see the color trends in 2019 will bring in more brighter and richer color shades. You can still get some informations from our post of Wedding Colors in All Seasons and Colorseven if you are still hesitant for your wedding season and colors.
Wine and navy is a traditional fall wedding color scheme. Bride in white bridal gown, girls in wine bridesmaid dresses and groom and groomsmen in navy suits and wine ties, the color palette is so warm and inviting. Click on the image below, you will get more ideas on wedding flowers, cake, invitations, table decorations etc. You will never be disappointed by pick these hues!
Navy blue and grey, elegant and easy-to-pair, is a classic fall wedding color palette and will still popular in 2019. You can also add a shade of peach to the blue and grey wedding. Bridesmaids with navy blue dresses with white and peach bouquets are so stunning. Click on the image below, you will be inspired by more ideas on this color scheme.
Emerald green bridesmaid dresses, with its rich hue, can be paired with numerous accent colors like true blue or navy blue suits, which looks contrasted and never brighter. Click on the image below, you will get more ideas on how to decorate your wedding venue, table, invitations, cakes etc in this color combos!
Champagne + Shades of Red
Some neutrals like champagne is perfect for fall wedding 2019. Champagne bridesmaid dresses with bouquets of shades of red create a standout color combinations in a fall wedding.
Ivory + Burgundy
It's a great idea for your girls wearing ivory bridesmaid dresses. You can pair some burgundy with the ivory fall wedding, which will never disappoint you.
Red + Sunflower Yellow
Sunflower yellow is always a fall wedding color. Sunflower yellow and red color combinations conveys fall harvest and coziness, which is perfect for fall wedding undoubtedly.
Royal Blue + White
Royal blue and white color combos screams elegance, classic and just beautiful colours. Royal blue bridesmaid dresses pairs best with a white bridal gown.
Violet + Gold
Violet and gold, a vibrant fall color combos, will make the whole wedding feel fresh and bright. Try violet bridesmaid dresses and add a little shade of gold to the wedding.
More Wedding Color Combos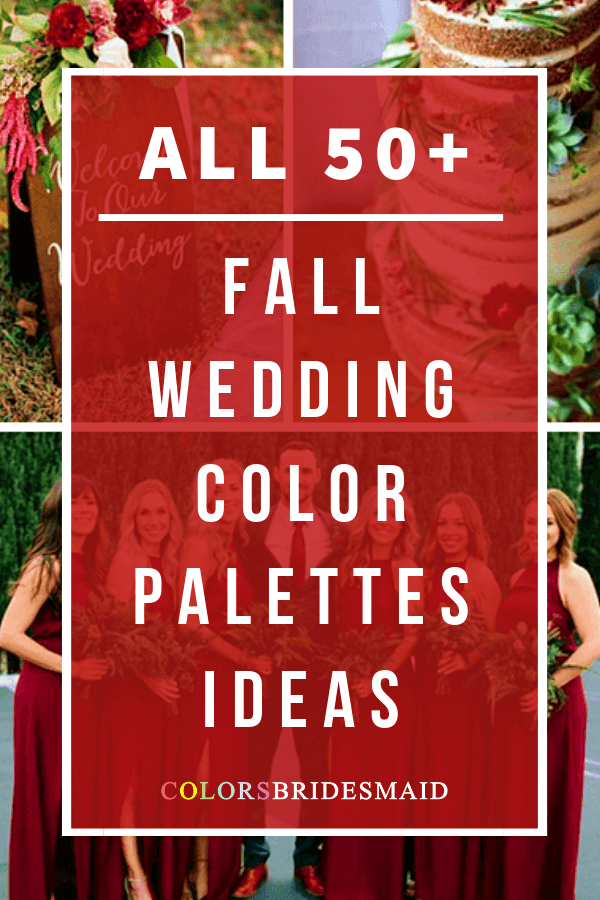 ColsBM Bridesmaid Dresses in 150+ Colors
In fall weddings, brides are always willing to choose some brighter colors such as royal blue, red, sunflower yellow and some colors representing fall season such as grey, burgundy and purple in their weddings, especially for bridesmaid dresses. At Colorsbridesmaid.com, the bridesmaid dresses are custom made in to 150+ colors and 500+ styles. The Bridesmaid Dresses 2019 offers the dresses with the newest trend in 2019 to greatly flatter bridesmaids. They are sold under 100, very affordable but with great quality. Pick up your favorite styles according to your own perference. You will never be disappointed.