Peach is one of the best colors to pair with emerald green and gold. It balances the lightness of the emerald green and gold without being so overpowering that it looks out of place. Peach corsage, wedding table centerpieces, and wedding cake décor look warm. The emerald bridesmaid dresses are fascinating. The bride with a white bridal gown can choose a pair of gold high-heel shoes. The emerald wedding invitations with gold letters and peach covers are wonderful in the color combo.
Photography: Gavyn Taylor Photo
Via: Etsy
Photography: Joe & Patience
Via: Nicety Studio
Via: Nicety Studio
Shop More Emerald Green Bridesmaid Dresses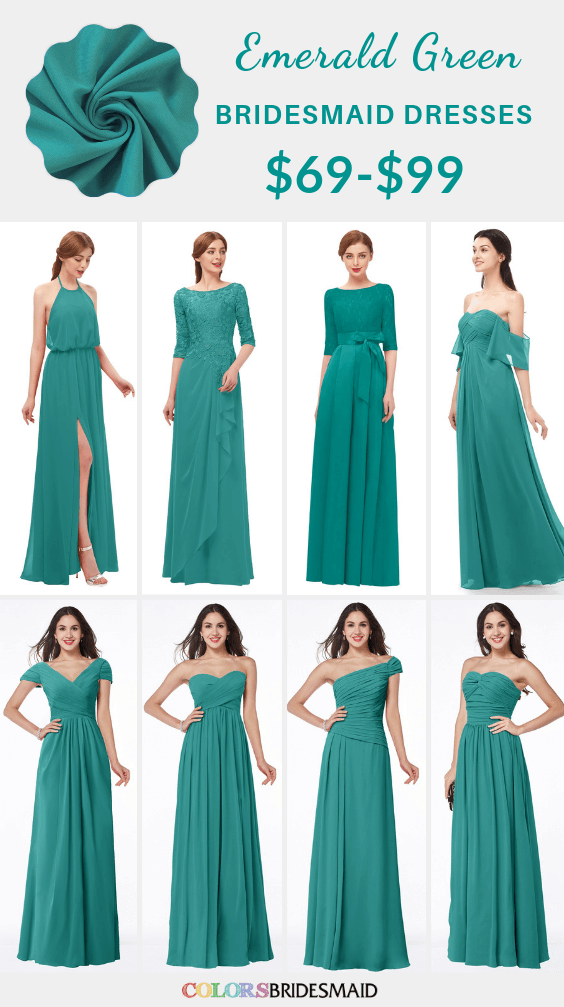 More Wedding Color Combos
Wedding Colors for All Seasons and Colors
Emerald Green Wedding Color Palettes Ideas
ColsBM Bridesmaid Dresses in 150+ Colors
Emerald, gold and peach wedding color combos will bring you a warm yet elegant wedding which is especially suitable for spring and summer weddings. If you are picking the bridesmaid dresses for your girls, just come to Colorsbridesmaid.com where you can find more than 600+ style bridesmaid dresses in 150+ colors. All bridesmaid dresses can be custom-made to your size to flatter your figure. The affordable price of mostly under $100, excellent workmanship as well as professional customer service at Colorsbridesmaid.com will never disappoint you.