Are you considering having a March wedding in 2024? Well, you're in for a treat! March is a wonderful time to tie the knot, as it signifies the arrival of spring and promises new beginnings. The weather is often mild, and nature starts blooming with vibrant colors, creating a picturesque backdrop for your special day. From traditional to contemporary, there's a wide range of wedding styles that suit the month of March. As for color combinations, there are plenty of options to choose from, each reflecting different moods and themes. Whether you prefer soft and romantic hues or bold and striking shades, we've got you covered with the top 8 March wedding color combos that are sure to impress your guests.
Baby Pink + Peach
The combination of baby pink and peach for a wedding color palette creates a soft and romantic ambiance that will evoke a sense of femininity, grace, and tenderness. Incorporating this color combo into your wedding elements can be done in various ways. Bridesmaids' dresses in shades of baby pink and peach will create a cohesive and harmonious bridal party, while the bride can don a stunning white bridal gown. White wedding cake dotted with baby pink and peach flowers, baby pink wedding table runner as well as wedding table number card with baby pink flower printing will create a dreamy and enchanting atmosphere that will leave a lasting impression on your guests.
Burgundy + Dark Red
The combination of burgundy and dark red for a March wedding in 2024 will create a rich and elegant atmosphere. These deep shades of red exude romance and passion, adding a touch of luxury to your special day. You can arrange your leading gals in burgundy dresses and you, the enchanting bride can wear a fascinating white bridal gown and dark red wedding shoes. Both the bouquet and wedding cake, you can use burgundy and dark red roses and greenery to decorate. And the white little girl dress with burgundy waist band will be highly welcomed by the lovely little girl.
Ice Blue + White
The coolness of the ice blue hue evokes a sense of tranquility, while the purity of white brings elegance and sophistication to the overall look. This wedding color combination creates a romantic and serene atmosphere. To showcase this color combination in your wedding elements, you can start by incorporating ice blue and white in your wedding cake, wedding welcome sign, wedding bouquets and wedding arch. For the bridesmaid dresses, choose floor-length gowns in ice blue for a soft and ethereal look, while the bride can stun in a white gown.
Mushroom + Champagne
The mushroom and champagne color combo for a March wedding in 2024 will create an elegant and sophisticated atmosphere that is sure to impress your guests. Incorporating this color scheme into your wedding elements can be done in several ways. For the bridal party attire, opt for mushroom-colored bridesmaids' dresses, which will create a subtle and graceful look. For floral arrangements, choose blooms in shades of champagne and white flowers. Champagne wedding cake dotted with white flowers and white wedding tablecloth with champagne candles décor will create a sophisticated and enchanting ambiance.
Pastel Pink + White
The softness of the pastel pink creates a gentle and feminine atmosphere, while the purity of white adds a touch of sophistication and purity. This color combination evokes feelings of love, tenderness, and innocence. The bridesmaids' dresses could be in pastel pink, complemented with white bouquets. And the bride in a white bridal gown with pastel pink and white bouquet. All the floral arrangements can be pastel pink and white colors. And the wedding tablecloth and wedding cake can be pastel pink to complete the look.
Sage Green + Whisper White
The combination of sage green and whisper white exudes a sense of natural beauty and tranquility, perfect for a romantic celebration. You could opt for sage green bridesmaid dresses and a white bridal gown, complemented by delicate whisper white bouquets. All the decorations such as wedding centerpieces, wedding chair décor and wedding arch arrangement arbor can be whisper white flowers and greenery. You can also incorporate sage green and whisper white in wedding cake.
Champagne + Pink + Yellow
The soft and warm tones of champagne, complemented by the delicate blush of pink and the vibrant pop of yellow, will infuse your wedding with romance, joy, and a touch of whimsy. To fully showcase this color palette, incorporate these hues throughout your wedding elements. For the decor, adorn the tables with pink and yellow floral centerpieces, champagne-colored napkins and champagne wedding chairs. The bridesmaids in champagne dresses and the bride in a white bridal gown radiate sophistication and elegance. You can also make your white wedding cake be decorated with champagne flowers.
Moss Green + Orange
The combination of moss green and orange for a wedding color scheme is sure to create a stunning and eye-catching effect. You can truly bring this color combo to life. For instance, consider using moss green table linens adorned with orange floral centerpieces. The juxtaposition of the earthy green with the bold pop of orange will add an element of whimsy to the tablescape. Additionally, the bridal party can showcase this color combination through their attire. Bridesmaids can don moss green dresses, bride wears a white bridal gown and groomsmen in classical navy blue suits with orange corsage. The bouquets can be orange flowers and greenery. This will create a visually captivating contrast against the lush greenery of the wedding venue.
More Wedding Color Combos
Wedding Colors for All Seasons and Colors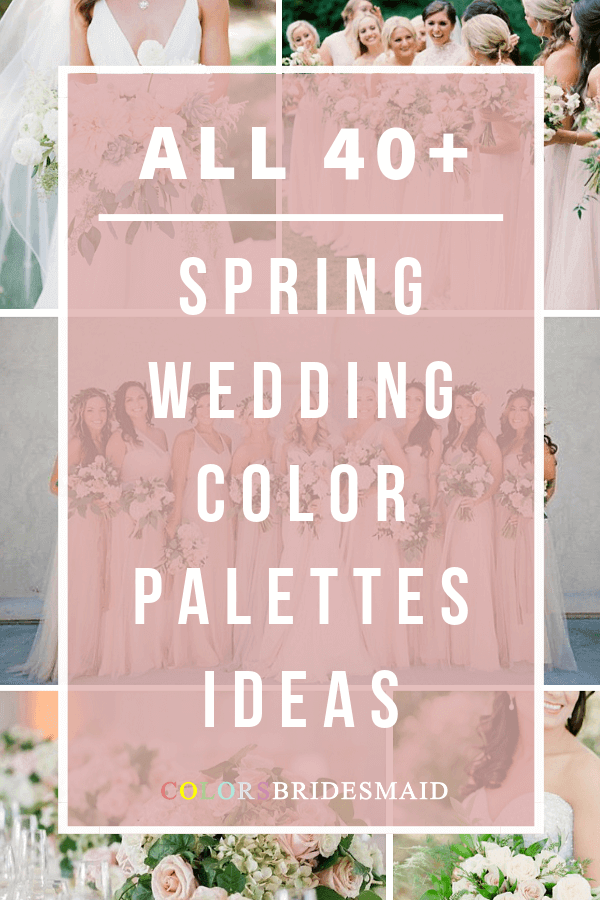 ColsBM Bridesmaid Dresses in 150+ Colors
In conclusion, these eight March wedding color combinations for 2024 are sure to wow your guests and create a memorable atmosphere on your special day. Whether you prefer classic and elegant shades like navy and blush, or bold and vibrant hues like emerald and gold, there is a color scheme to suit every couple's style and vision. Remember, your wedding colors can set the tone for the entire event, from the invitations to the decor and even the bridesmaids' dresses. Speaking of which, don't forget to consider these color combinations when choosing your bridesmaids' gowns to create a cohesive and visually stunning bridal party. Just come to Colorsbridesmaid.com where you can find more than 600+ style bridesmaid dresses in 150+ colors. All bridesmaid dresses can be custom-made to your size to flatter your figure. The affordable price of mostly under $100, excellent workmanship as well as professional customer service at Colorsbridesmaid.com will never disappoint you.