Good color options for March 2019? Spring arrives in March, why not go with a spring theme? Spring colors like yellow, pink, peach, dusty blue, green can be your best choice. Check the following 8 refined March wedding color palettes for 2019 and get some inspirations. We also offer you Wedding Colors in All Seasons and Colors for those who have not decided the wedding theme color and time.
Mauve, a light shade of purple, is a color of spring or fall wedding. Mauve bridesmaid dresses, mauve table linens with mauve and white centerpieces will never disappoint you. You will see more ideas in aspect of wedding cakes, invitation, robes, venue decorations etc if you click on the image below.
For a March blue color, you'll never lose dusty blue. Dusty blue is a spring color with elegance and beauty. It's no more pretty than a bride in white gown with the girls in dusty blue bridesmaid dresses with white and dusty blue bouquets standing in line in a March day. You will get more clues on how to use dusty blue in your March wedding after you click on the image below!
Green
Green is a youthful and refreshing color, which is perfect for Spring wedding. Green bridesmaid dresses, green leaves on wedding cakes, green invitations and other greenery decorations here will give you more inspirations from the green color palette below.
Yellow
In a March wedding, yellow flowers always shows such a beautiful scene with the green lawn. Also yellow bridesmaid dresses will give a contrasting picture in a Spring wedding.
Peach
In the different shades for pink, peach is the best Spring color, fresh, elegant and also warm, perfect for March wedding.
Lavender
Lavender or lavender color conveys freshness and elegance. Check the following palette image to see how to decorate your March wedding with lavender.
Coral
If you'll like a bright and warm March wedding, try coral! Coral bridesmaid dresses, coral flowers, coral napkins and coral cakes will give you a big pleasant surprise!
Blush
Blush is always so popular and you'll never forget it if you want a romantic March wedding. Try blush bridesmaid dresses, blush flowers and blush cakes.
More Wedding Color Combos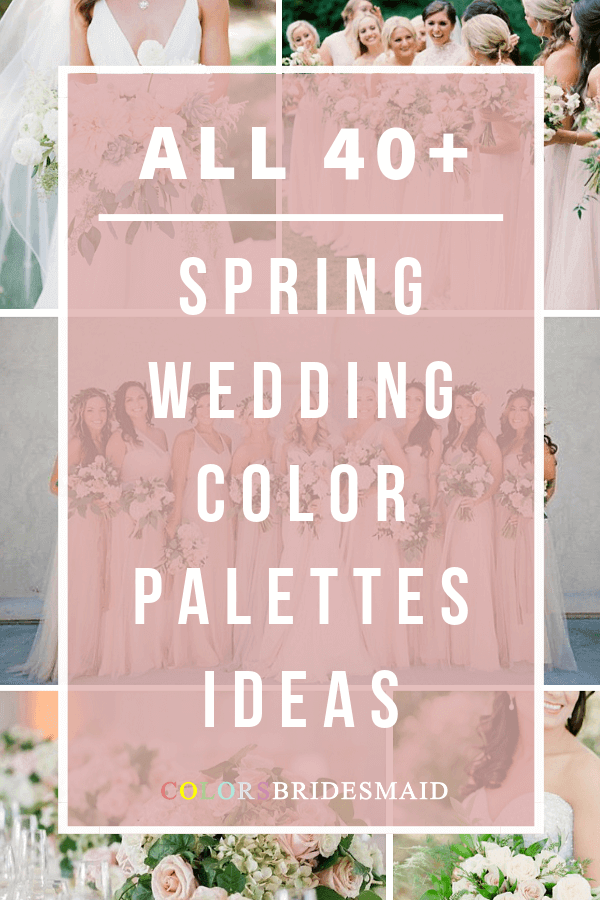 ColsBM Bridesmaid Dresses in 150+ Colors
Spring is a great season to hold a wedding and bridesmaids in colors of blush, pink, yellow, dusty blue etc. are amazing. At Colorsbridesmaid.com, you will never worry about finding a satisfied bridesmaid dress. All dresses are made to order and custom made to 500+ styles in 150+ colors and all sizes. The Bridesmaid Dresses 2019 here are highly welcomed by virtue of the fashionable styles, affordable price (under 100), perfect fit and fast shipping. You will never regret your shopping here.