2019 is coming and many couples are busy with planning their weddings. If your wedding will be held in spring, the Top 8 Spring Wedding Color Palettes for 2019 will give you more inspirations! If you are longing for a colorful and bright wedding, summer is a good choice. For summer weddings in 2019, there are large choice for colors. Here we've got 8 fresh and hottest summer wedding color palettes and ideas for your inspiration. Your weddings are in other two season? It does not matter! We offer you Weddding Colors in All Seasons and Seasons!
Still considering your summer wedding color scheme? Cornflower blue and peach color combos is a bit different from others for its elegance and coolness and perfect for summer wedding. Click on the image below to see more details including wedding dresses, flowers, invites, table decorations, cakes etc.on this color palettes.
Green and white color combinations will never disappoint you in a summer wedding. Cool and fresh, greenery brings to everyone a refreshing feel. Brides in white bridal gown with bridesmaids in green bridesmaid dresses, that will be a beautiful scene. You will see this color combos in aspects of wedding dress, bridesmaid dresses, wedding cakes, flowers, invites, table decorations etc after clicking on the image below.
Mint color is always cool for your big day in summer. Bridesmaids in mint dresses, mint and peach wedding flowers in bouquets, table decorations etc look so stunning. Click on the following image to get more inspirations in details.
Pink + Lemon
Pink and lemon combinations are downright cheerful summer wedding colors. Flowers will pair well together in pink and yellow hues. Start with some pops of pink and lemon color on your invites, dress your girls in pink bridesmaid dresses and also use these 2 to the wedding reception. Lemon garnishes in pink cocktails is a great way to add color to the cocktail hour.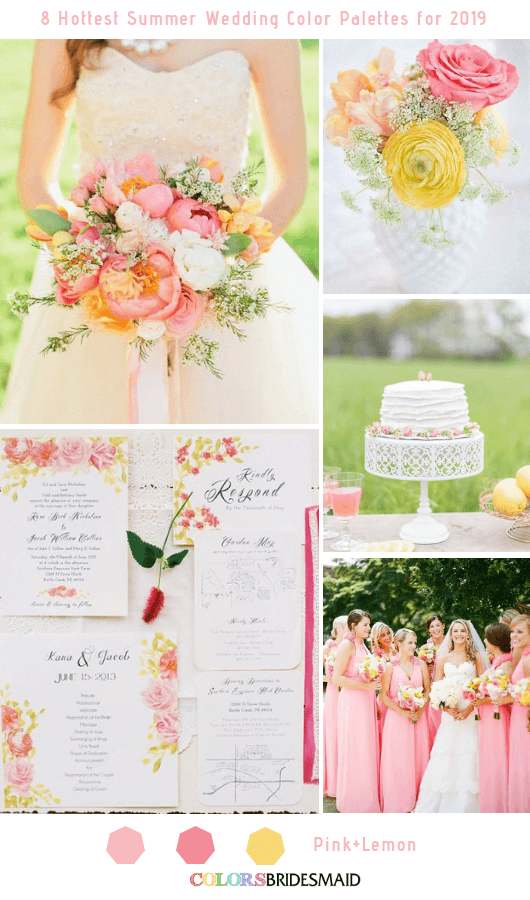 Lavender + Grey
If you are looking delicate shades for your big day, lavender and grey color combinations can be a great choice. Get inspired by these details: men in grey suit with lavender corsage, lavender wedding invitation with grey envelope, girls in lavender bridesmaid dresses, lavender flowers decorations…
Fuschia + Teal
Looking for hot and gorgeous summer wedding color schemes? Fuschia will be your ideal color. Combined with teal, fuschia and teal color combos will convey beauty as well as brightness.
Grey + Yellow
Grey is a classic color used in summer wedding. Yellow will add some brightness and makes a grey wedding elegant and beautiful. Check the following grey bridesmaid dresses, yellow girls' shoes and other color decoration details.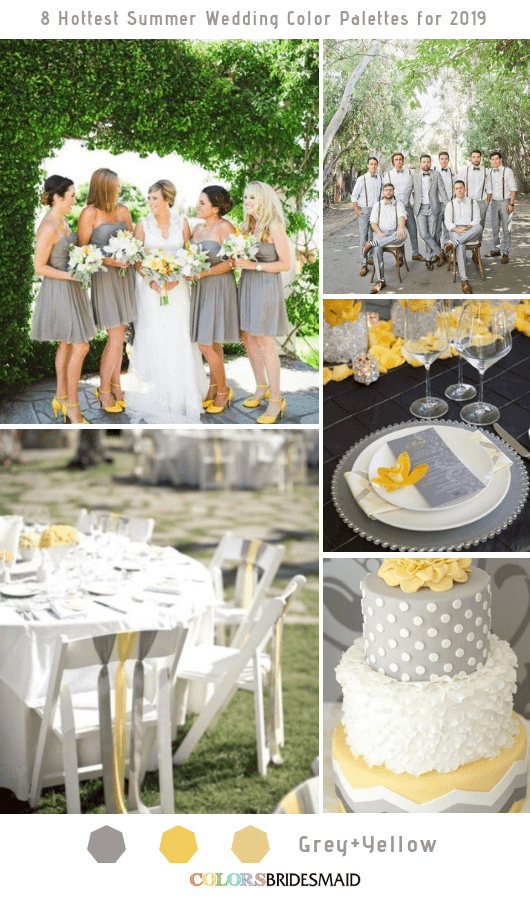 Blue + Yellow
Blue and yellow is a popular color scheme for summer weddings. It's so cool because of the bold contrast between the 2 colors, and bright blue shades like electric blue are the best-working here.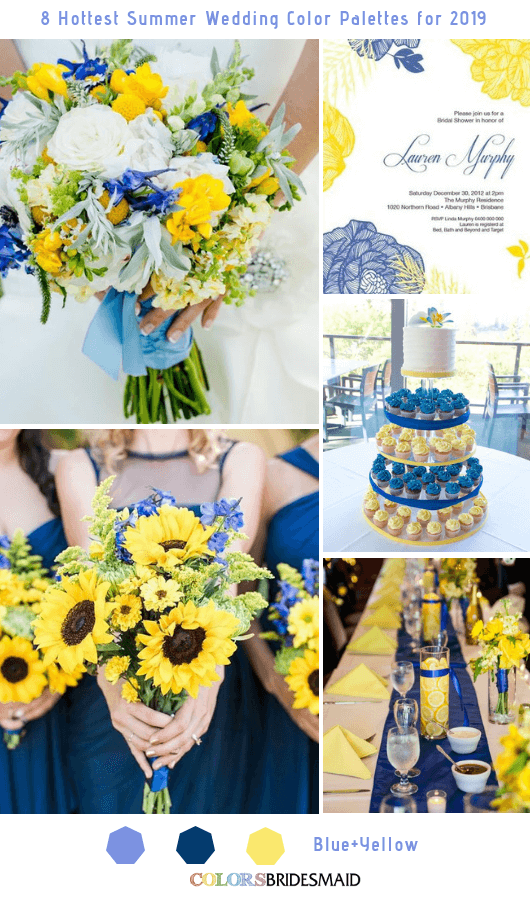 More Wedding Color Combos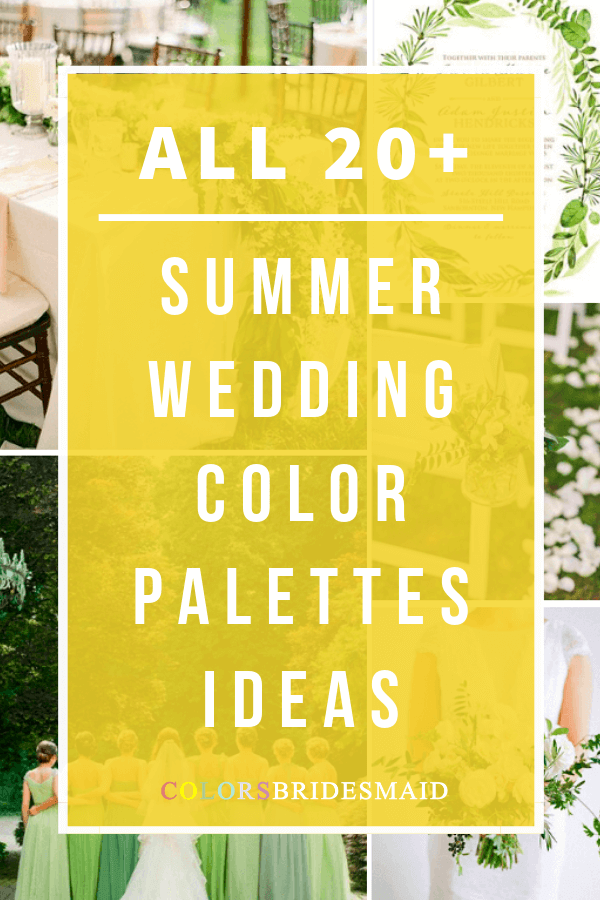 ColsBM Bridesmaid Dresses in 150+ Colors
In summer weddings, there are so many colors to decorate the venue and dress your bridesmaids. At Colorsbridesmaid.com, the bridesmaid dresses are custom made to 500+ styles in 150+ colors which will greatly enlarge your choice. The Bridesmaid Dresses 2019 are offered with the latest styles. They are sold under 100 but made with great quality. Just pick up your styles here!