Wedding bouquets is a key point for your wedding. We choose different bouquets according to the wedding season and wedding color. For fall wedding bouquets, the most popular colors may be orange, burgundy, lavender and sunflower yellow etc.. We've got 10 gorgeous fall wedding bouquets here. Check the article for inspirations.
Burgundy is the color that never goes away anytime soon. White brides, bridesmaids in burgundy dresses, grey men with navy tie, the whole is a beautiful scene. You can add some peach to the burgundy bouquets and the whole wedding looks more bright. You will see how to incorporate peach and burgundy bouquets in each details of the fall weddings after you click on the image below!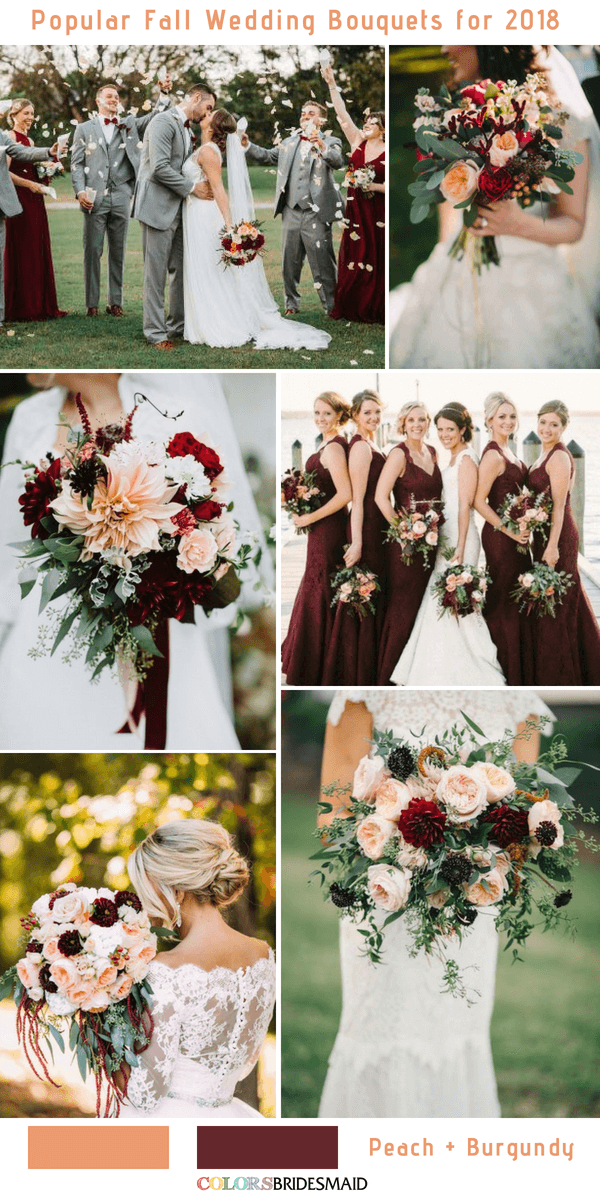 Red + Orange Bouquets
Red and Burnt Orange, representing richness and harvest, is a perfect mixture for fall wedding colors. Red Bridesmaid Dresses will enable you to feel the leading girls passion. Red and burnt orange fall wedding bouquets, white bridal gown, light grey groom suits and wooden decorations makes the whole wedding eye-catching and gorgeous.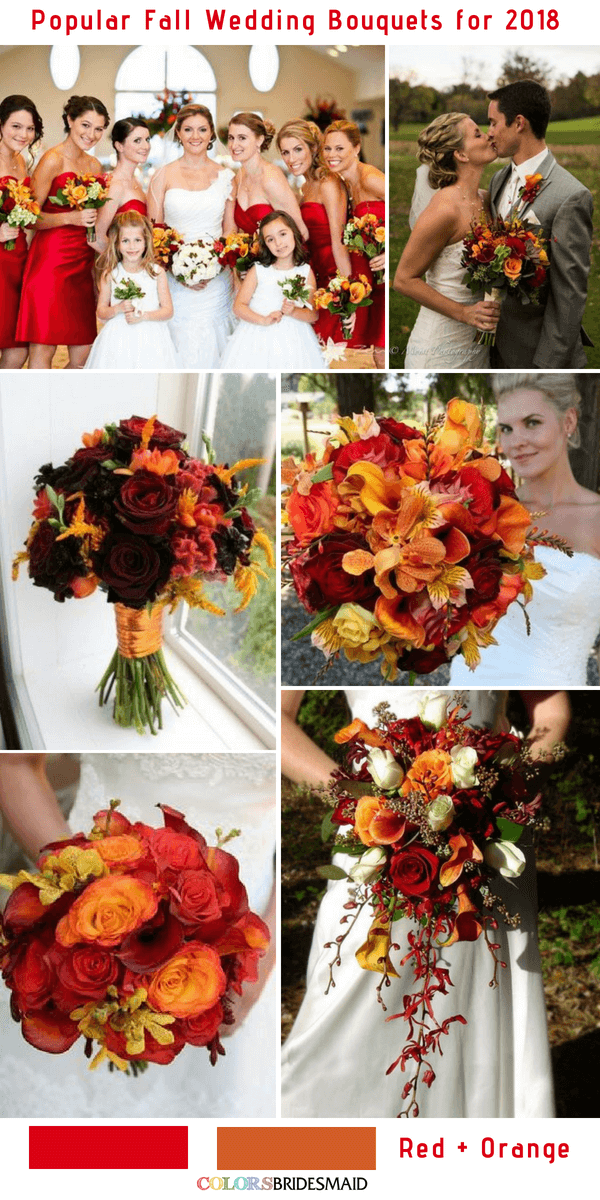 Blush + Burgundy Bouquets
Blush and Burgundy wedding bouquets conveys romance and love, which matches perfectly the white wedding gown and makes the whole wedding lovely! Blush bridesmaid dresses will be another match to the romantic blush and burgundy wedding!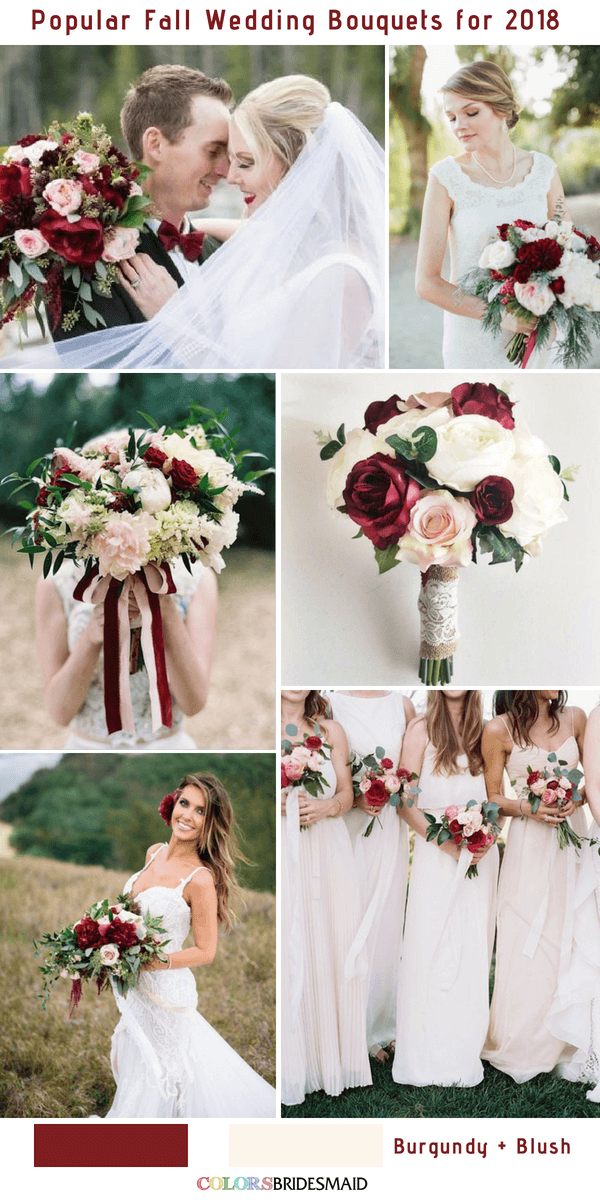 Lavender Bouquets
Lavender brings romance with its gentle color and wonderful fragrance. If you love the scent of lavender, it's a lovely idea to incorporate the fragrant flowering plant into your wedding day. It can be perfectly used in the fall wedding of light purple style.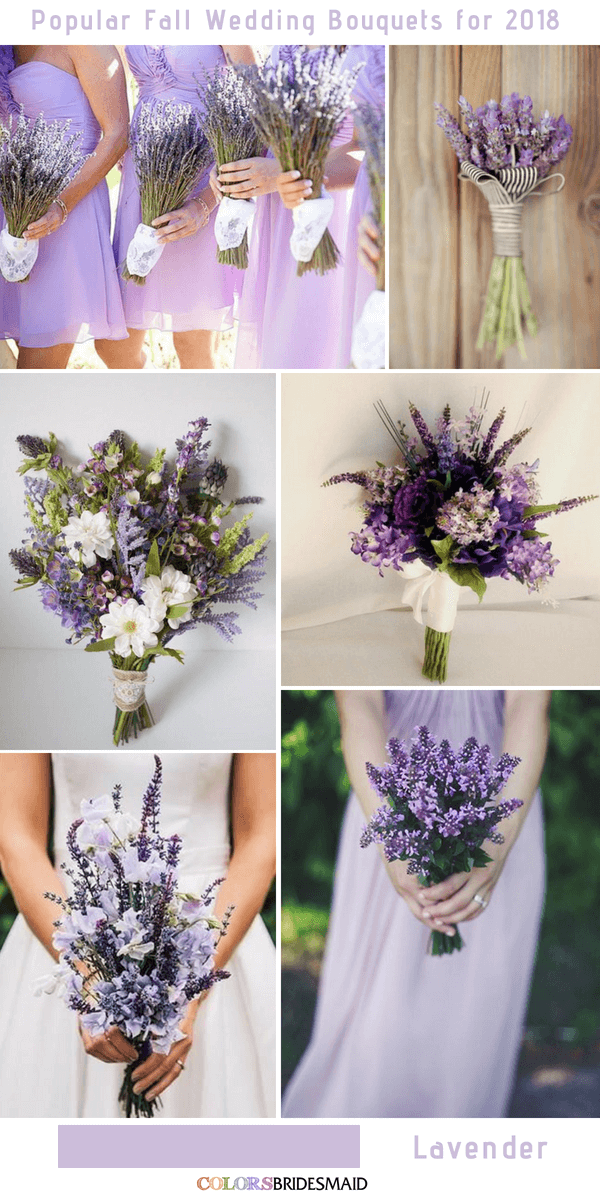 Mauve + Light Purple Bouquets
Mauve is a popular fall wedding color. Mauve and light purple bouquets is another ideal choice for your light purple fall wedding! Bridesmaids can be in light purple or aster purple color, all of which makes the fall wedding look gorgeous!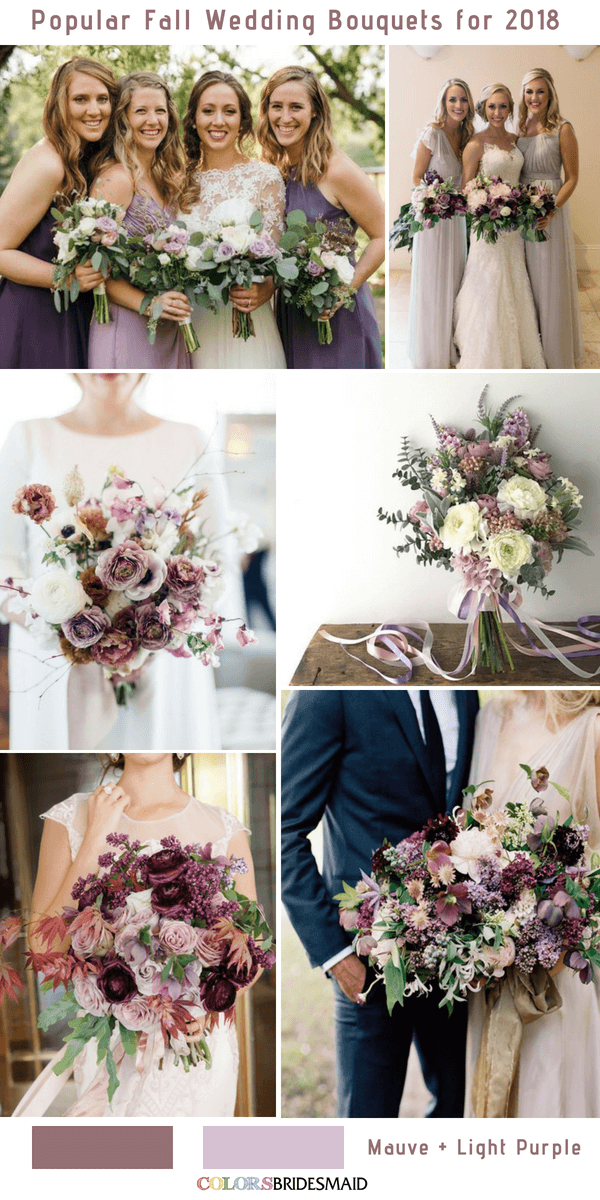 Pinecone + Green Bouquets
Pinecone wedding decorations is popular among fall and winter weddings. Some baby's breath or other greenery may be added to the pinecone bouquets. Green bridesmaid dresses and pinecone bouquets with little green make the fall wedding never dull.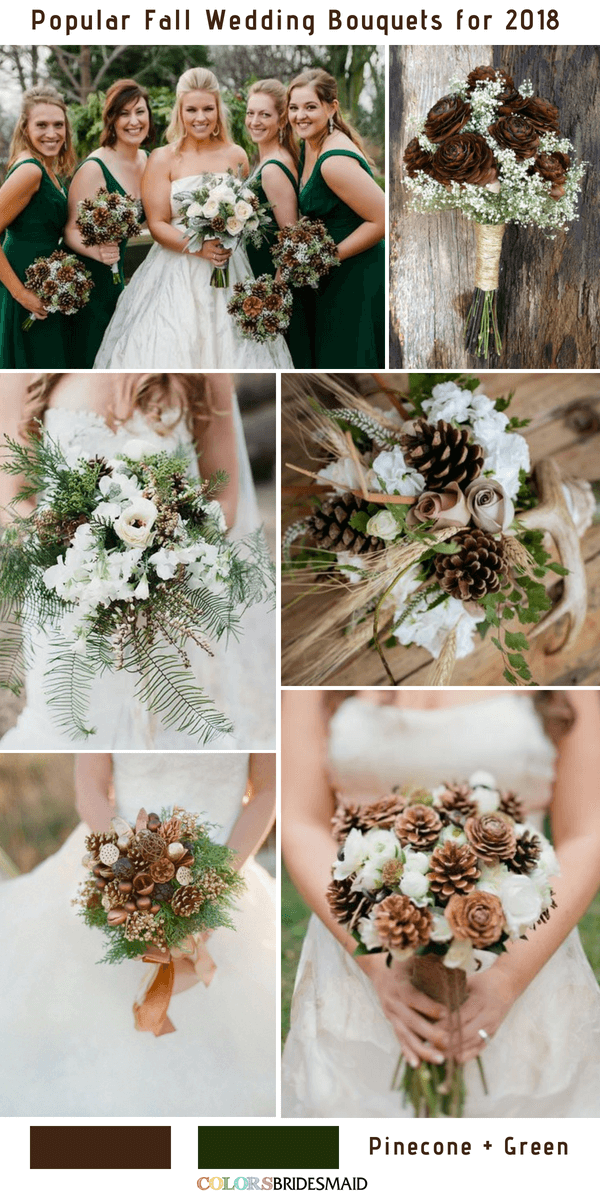 Purple Bouquets
How to decorate your purple wedding? Bridesmaids in begonia purple and bouquets in different shades of purple will be your ideal choice. Check the following palette for more inspirations.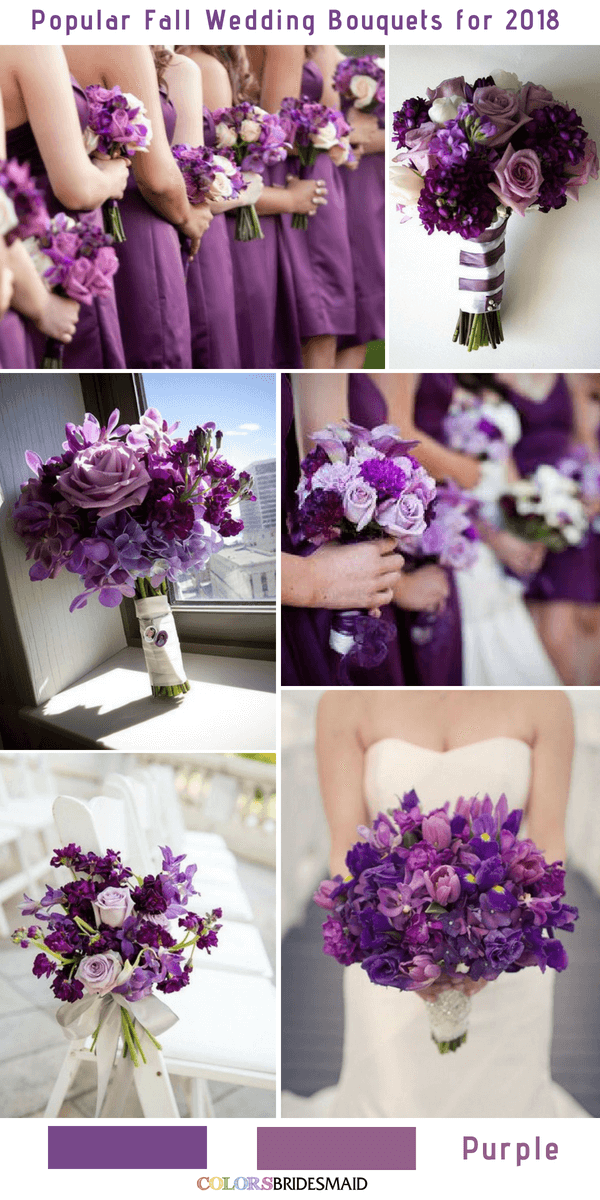 Sunflowers Bouquets
Bold, fun and cool, sunflowers are a perfect pick for your fall wedding! With some little baby's breath, sunflowers bouquets looks beautiful and bright. Bridesmaids in navy blue dresses is an ideal match to the sunflowers wedding!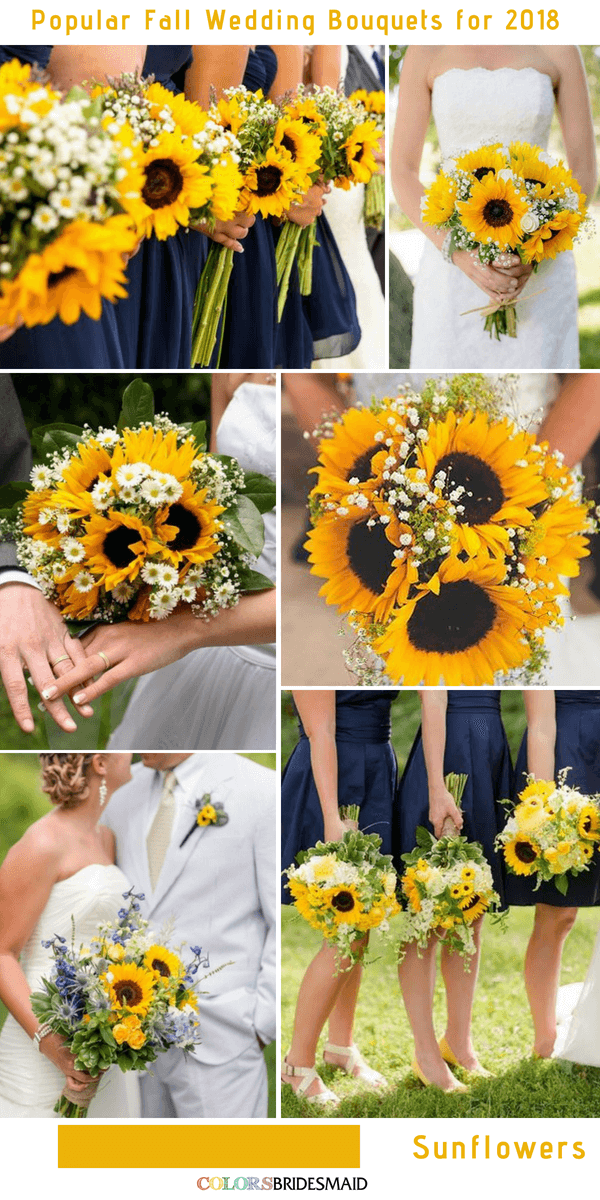 Teal and Orange Bouquets
Teal and orange are 2 bright and bold colors that are popular color mixture and especially fun for fall weddings. Teal bridesmaid dresses with orang bouquets have the highest color contrast and make the fall wedding stunning.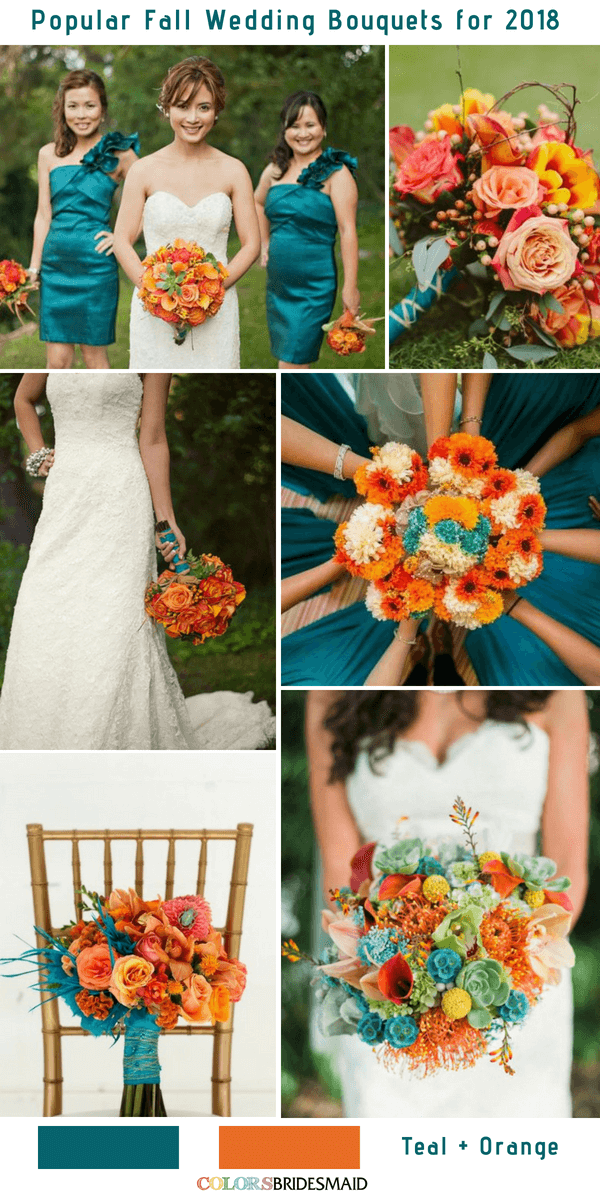 Green and White Bouquets
As organic and earthy weddings is popular, the natural white and green color palette becomes also brides' favorite. In the green and white color palette, both bridesmaids in sky blue dresses and the bride hold green and white bouquets while the groom wears a navy blue suit with a green and white boutonniere. All of those inspirations will make your big day more stunning!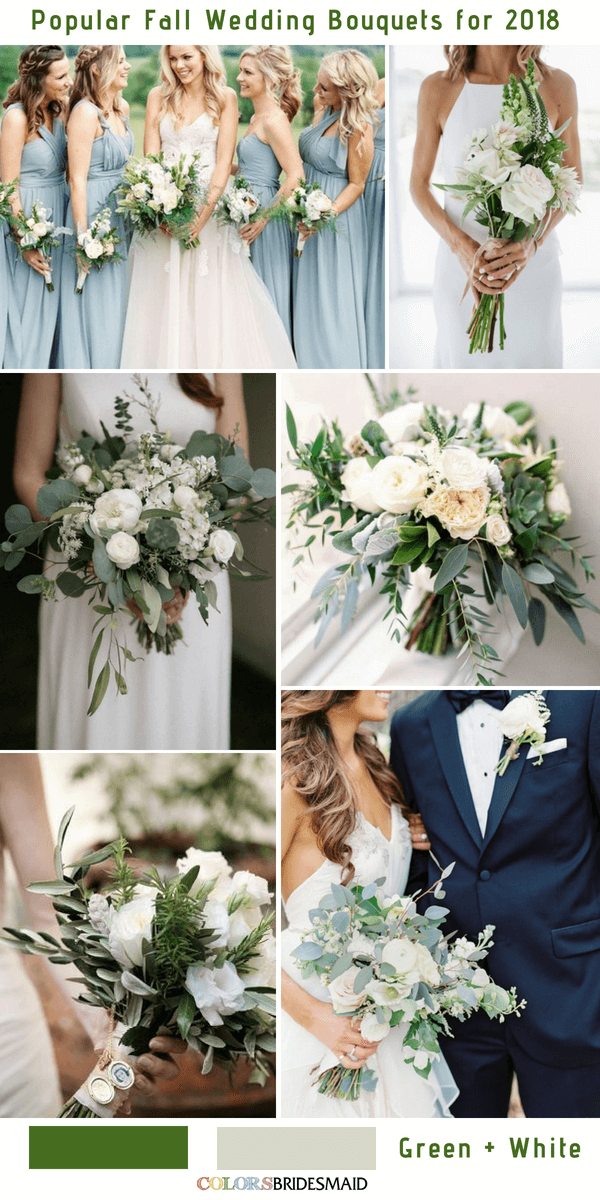 More Wedding Color Combos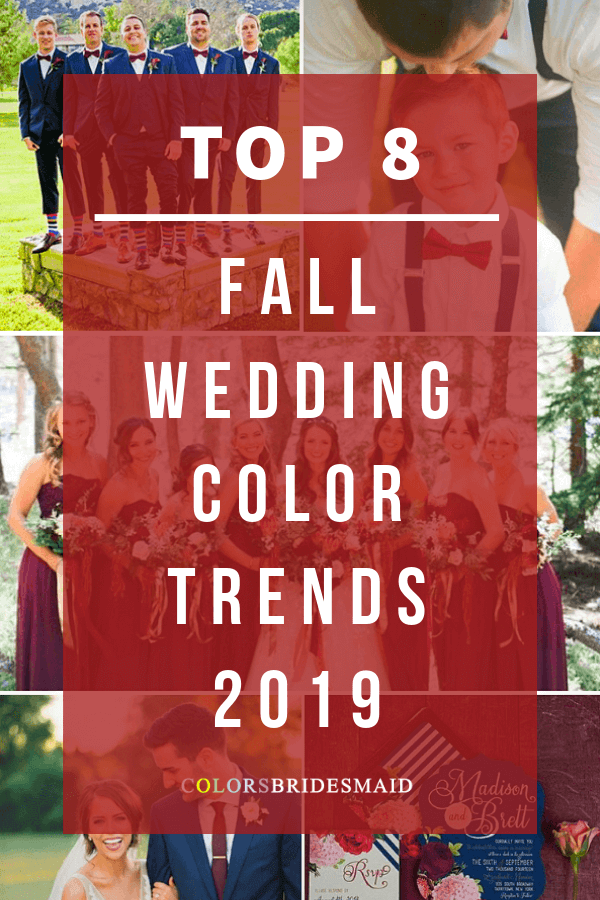 ColsBM Bridesmaid Dresses in 150+ Colors
Fall is a great wedding season since there are many color schemes options to choose. No matter what your wedding theme, the florist can always design your wedding bouquets attractive. Besides bouquets, or wedding flowers, garment is an important process to plan. At Colorsbridesmaid.com, we provide you with bridesmaid dresses in the trendiest styles in 150+ colors in all sizes at affordable prices of under $100.